Put down the giant inflatable flamingo and gather round, kids.
Something seriously effed up just happened in Sophie Monk's sex villa.
Cassidy and Grant just… recoupled.
Yep, the same Cassidy and Grant who decoupled earlier in the season during a very Dean and Davina-esque villa-based betrayal.
Lemme break this whole recoupling saga down for you.
You see, Grant and Tayla are currently together. They have the same hair colour and seem to have the bants.
Cassidy was with Grant and then she was kind of with Josh, and then she was kind of with Dom, but Dom was a lil' scared because she's most definitely a stage five clinger.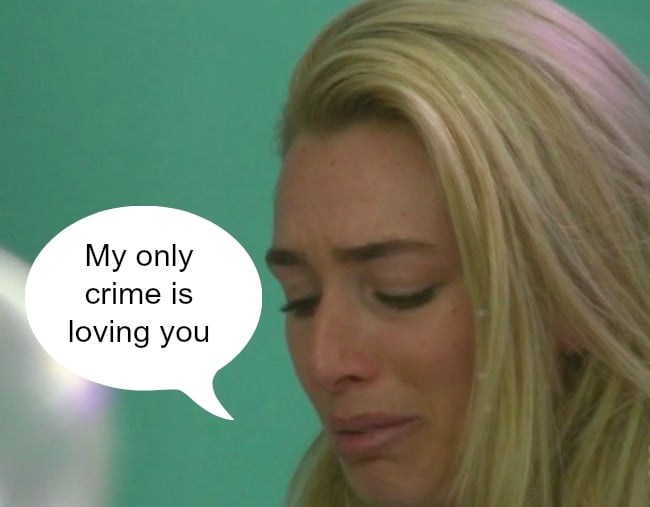 So, on tonight's episode Dom did a flirt with Millie in the pool.
Cassidy witnessed this flirt and was not impressed. She confronted Dom and he was... unsettled.
The next morning Grant told Dom that Cassidy made quite a "scene" when she saw Dom doin' a flirt with Millie, and Dom was even more... unsettled.
Eden told Cassidy that Grant had been a-stirrin' the pot with Dom. Cassidy confronted Grant and did a cry.
She then spoke to Dom and Dom did this:
Millie and Cassidy then had a fight because there's not much else to do in the sex villa and Dom was hiding in the bushes.
Then it was recoupling time.
Teddy chose Mac.
Millie chose Dom.
Francoise chose Josh.
Cassidy chose... Grant... to prove to him that she's there for "genuine reasons" ¯\_(ツ)_/¯.
Tayla did a fume and then chose Jaxon.
Oh, then Erin chose Eden.
There was lots of talk of "girlcode" and "playing the game" and "snakes in the house" and no one seemed to be enjoying a mango daiquiri on a giant inflatable flamingo.
It was... weird.
Until tomorrow night...