Five women have accused comedian and actor Louis C.K. of sexual harassment, with Friends star Courteney Cox backing up allegations from one woman who says C.K. asked to masturbate in front of her on a television set in 2005.
"He leaned close to my face and said, 'Can I ask you something?'" comedian Rebecca Corry, who was working on a pilot with C.K. in 2005 told The New York Times. "He asked if we could go to my dressing room so he could masturbate in front of me."
Cox, who was an executive producer on the show along with then-husband David Arquette, confirmed Corry's account.
"What happened to Rebecca on that set was awful," Cox told The New York Times, adding she felt "outrage and shock" at C.K.'s behaviour.
"My concern was to create an environment where Rebecca felt safe, protected and heard."
Corry said she declined C.K.'s proposition, reminding him of his wife and two children.
"His face got red," she said. "And he told me he had issues."
She is one of five women to come forward and accuse the 50-year-old comedian of sexual harassment in an explosive expose published by The New York Times.
It was 2002 when comedy duo from Chicago Dana Min Goodman and Julia Wolov performed at the U.S. Comedy Arts Festival in Aspen, Colorado.
They were elated after the show – their first big break – and thought nothing of it when C.K. asked them to join him for a celebratory drink in his hotel room. It was cold out. Most of the bars were shut. He was respected – revered, even – in the industry. Why not?
As soon as they entered the suite, the pair told The New York Times, C.K. asked if he could "take his penis out".
"And then he really did it," Goodman said. "He proceeded to take all of his clothes off, and get completely naked, and started masturbating."
The stories begin to roll in together, closely echoing the allegations leveled at disgraced film producer Harvey Weinstein, and made even more troubling because of the content of C.K.'s comedy – he regularly talks about his family, he frequently makes fun of male hypocrisy.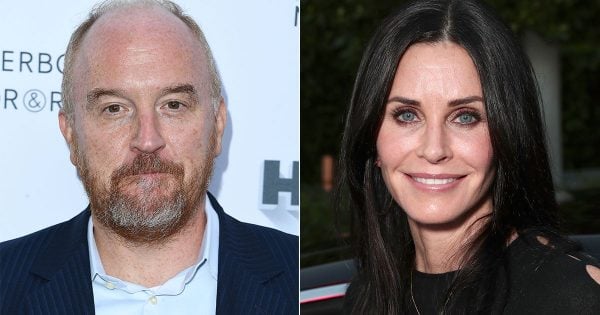 Writer Abby Schachner who claimed she was talking on the phone to C.K. when he blatantly began masturbating in 2003.
Schachner told The New York Times she was stunned when C.K. started telling her about his sexual fantasies and breathing heavily. "You want to believe it's not happening," she said. "I felt very ashamed."
There is a fifth woman, who worked with C.K. on The Chris Rock Show in the late 90s. She was in her early 20s and, when C.K. allegedly asked if he could masturbate in front of her, she didn't know what to do other than agree.
Everything with Harvey Weinstein explained. Post continues below.

"It was something I knew was wrong," the woman, who has chosen to remain anonymous, said. She said he closed the door to his office, she sat in the chair opposite, and he masturbated at his desk. Colleagues and the workday were carrying on as normal just metres away.
"I think the big piece of why I said yes was because of the culture," she said. "He abused his power."
The comedian has not responded to the allegations, however the Thursday premiere of his new movie I Love You, Daddy was cancelled, along with was his appearance on The Late Show With Stephen Colbert.
C.K.'s publicist, Lewis Kay, sent an email to The New York Times on Tuesday night which said: "Louis is not going to answer any questions."
To read the full New York Times article, click here.