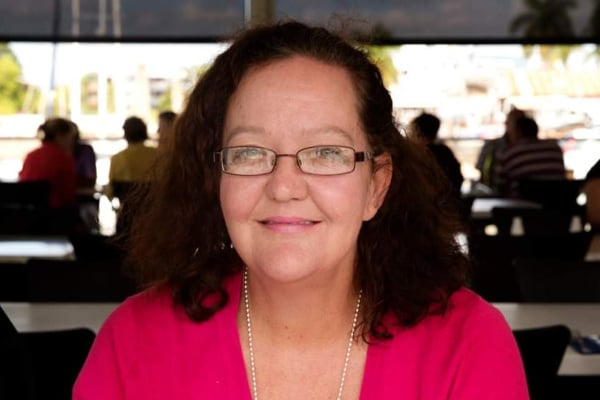 Leah, a 48-year-old mum of five, receives $320 in Newstart allowance every fortnight.
A bond loan and an advanced payment plan she took out to pay for car registration has already been automatically deducted from her payments. Once she pays for rent, petrol, her electricity and phone bill, car and funeral insurance, Leah is often left with nothing.
"We spend zero dollars on food," she tells Mamamia. "I'd rely on food services, like Vinnies or the church."
"The only reason I have money for food now is that my son and his fiance have moved back and they pay board," she adds.
Listen to Leah speak more about her experience on Newstart on Mamamia's The Quicky. Post continues. 
Leah is one of more than 700,000 Australians who rely on the Newstart allowance to survive.
For a single person without kids on Newstart, they'll receive a maximum of $555.70 a fortnight. That's $277.85 a week, just shy of $40 a day.
It's a number that hasn't risen in real terms since the mid-1990s, back when petrol was just over 66c/L and rent was on average under $200.
In 2019, for people like Leah who survive on Newstart, they have learnt to go without to make ends meet.
"You eat once a day so your children can have three meals a day," Leah, whose two youngest children live at home with her and her husband, tells Mamamia's daily news podcast, The Quicky.
"You don't go out for dinners, you don't go out to the movies. My husband and I go out once a year for our anniversary. And half the time other people pay that for us."
"You always put yourself last," she says, "I don't buy make-up. I don't buy new clothes. Occasionally at Christmas I buy myself new underwear because that's the one time you can get something."
Leah is constantly thinking about money. She doesn't have a choice. She has to think ahead to calculate what expenses have to be paid. She needs to be creative to stretch a dollar to pay for an ever-expanding list of things. And she always has to weigh up what will inevitably be sacrificed.
"When my son asks if his mate can sleepover, in the back of my mind you think, 'what can I afford to feed hungry teenage boys?' Then you give him and his friend dinner and you and your hubby have toast."
Living on Newstart means every single dollar you have has already been carefully accounted for. There's no room for any of life's curveballs, bringing with it unexpected expenses that keep you up at night with worry about how you'll pay for it. Leah doesn't remember a time when that fear wasn't in the back of her mind.
"You live in hope every day that something unexpected doesn't happen," she says.
"It makes you ill. It adds so much stress. When our washing machine died, we didn't even have a bit of money. We couldn't even buy a second-hand washing machine," she tells Mamamia.
"My dad had to buy a new one for us."
When Leah's husband had a heart attack, instead of racing to the hospital to see her husband, she had to calculate if she had enough money to pay for the fuel to drive to the hospital – as well as pay for the hospital parking.