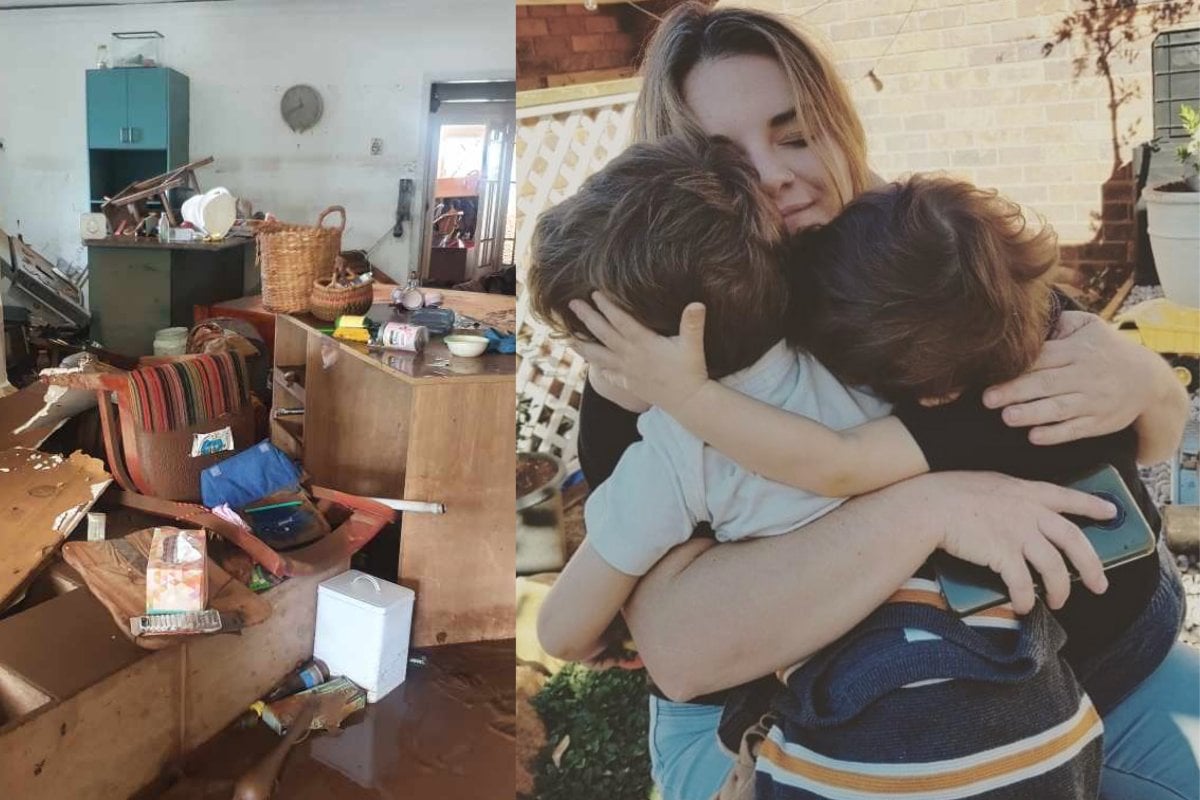 Leah, Vinnie and their two young boys have been through hell this past month.
When the floodwaters continually rose in Lismore, Leah and Vinnie were expecting some level of damage. But nothing could have prepared them for seeing their home submerged. 
While their house went under water, Vinnie soon realised that without his help, many locals were going to lose their lives. And so he got in his tinny boat, and rescued as many people as he could find. 
Four weeks on, Leah and Vinnie have lost just about all of their possessions in the floods. 
Watch: Lismore's future questioned after two catastrophic floods in five years. Post continues below.
Video via ABC News.
A few days before the floodwaters came, Leah and Vinnie had begun preparing their home. If the coming floods were anything like the event in 1974, the couple knew their house would only just be unscathed. So they moved things from their backyard and put them on the upper deck - just in case. They also put a few keepsakes in the roof, not thinking twice about just how crucial that decision would be. A coffee machine, a computer and some baby books.
"We figured we would be stranded for a couple of days at worse," Leah told Mamamia. "We figured our house would be okay, we had the barbeque to cook on and we had bought plenty of food and water."
While Leah and her two boys were at her mother's place - which was safely away from the coming floodwaters - things began to escalate.
"I got a call from Vinnie saying 'the water is up to my knees in our house'. Vinnie and my stepdad were together at our place, and decided to get out and take shelter in the tinny. They soon realised no one was yet on the ground rescuing people and it was becoming scary."
Listen to The Quicky. "My babies were in the car:" escaping the flood zone. Post continues after audio.
In his boat, Vinnie was scouring the streets for people who needed help. He knew that if people were on their roof, they were going to be okay - it was the houses that had no one on the roof that worried him. 
"He was listening out for the neighbours, looking inside what was left of the house's windows and yelling if anyone needed help. I know from what he has told me that he was horrified by some of the things he saw. Given what he went through, he is dealing with a fair bit of posttraumatic stress."
But what Vinnie was able to do is quite incredible, saving 50 people from floodwaters - including an 85-year-old man up to his neck in water who Vinnie heard crying out for help, and a woman on dialysis. At this time, Leah was also receiving calls from loved ones in Lismore, including a girlfriend who with her three-year-old, was stuck at home.