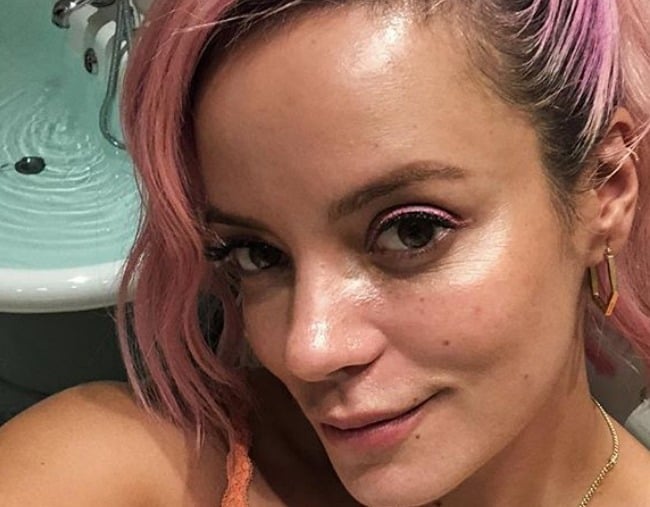 Nine years on from an infamous flight Lily Allen took with Liam Gallagher, the pop star is set to detail what really happened during those 11 hours.
In 2009, the then-married Oasis singer and Allen caused quite a stir in first class as they got drunk, shouted and swore during a flight from London on their way to the Fuji Rocks festival in Japan.
At the time, the Daily Mail reported the two stars were told to "calm down" by crew members as their raucous behaviour was disturbing the other passengers. However, in gossip circles, the account was far less innocent, with rumours swirling the pair had actually slept together.
Now Allen's memoir, My Thoughts Exactly, due out in October this year will reportedly spill exactly what unfolded between the two musicians.
"We got hammered on the plane. At some point Liam and I found ourselves together in the toilet doing something that he shouldn't have been doing, and it wasn't drugs. Then we were in a lie-down bed together," Allen writes in the memoir.
"When we landed in Tokyo, Liam said, in his distinctive nasal twang, 'What you doing now? Why don't you come back to our hotel… I was like, 'Yeah, OK.'
"It wasn't until the next day when he said something like, 'No one can hear about this because of Nic,' that I clocked he was married. I knew Noel was married and I knew Liam had been married to Patsy Kensit. That was partly why I fancied him. I'd grown up an Oasis fan. I was 12 when he and Patsy Kensit were on the cover of Vanity Fair as the coolest couple."
According to the memoir, Gallagher called Allen six months later and asked her to speak to his wife, Nicole Appleton.
"Six months later I was in my car with my driver when the phone rang … It was Liam.
"He sounded awful, like he'd been up all night. 'Lil,' he said. 'I just need you to get on the phone. I've got Nic here. One of your mates is, like, trying to do a wind-up or something and saying that you and me had it off or whatever, and I need you to speak to Nic and say that it's all b***ocks."