It was two days before Christmas when singer Lily Allen realised she'd made the mistake every parent fears come Christmas time.
The presents she'd ordered online for her two daughters – six-year-old Ethel and Marnie, four – would not be arriving in time for Santa to place them under the tree.
They would not be there for the girls to excitedly (and as most parents know, loudly) open on Christmas morning.
It wasn't because the shops were out of stock. It wasn't because an influx of people sending mail had caused a delay in the postal service.
Nope. The 32-year-old singer had failed to realise her credit card had expired, meaning she never actually completed her online purchases.
LISTEN: Run out of magical ideas for Elf on the Shelf? Holly Wainwright has a good one, and all you need is an egg, glitter and a Kinder Surprise.
Sharing the dilemma on Twitter, the Smile singer said she only noticed her error when she logged online to check the shipping details of the items, and found an email asking her to review her payment details.
"F*CK. When your card expires and you don't check your emails," she Tweeted, alongside a snap of the items that needed "payment revision".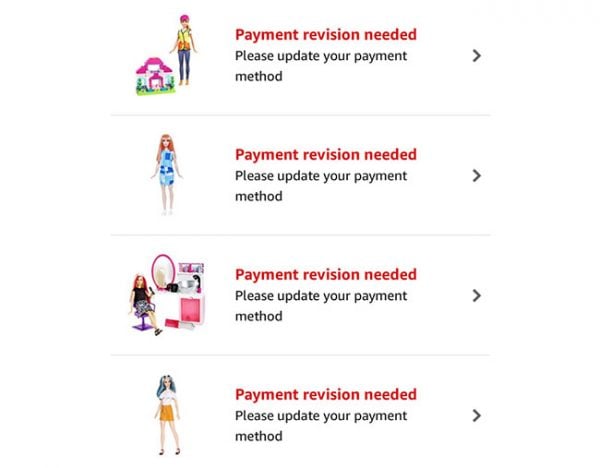 Poor Ethel and Marnie will have to wait until after Christmas to receive the four different sets of Barbie dolls their mum had meant to order.
The singer's fans were quick to offer words of wisdom and advice, with many reminding her that there was always a way to keep her kids happy come Christmas morning.