1. Sam Worthington's Christmas present for Lara Bingle costs more than an apartment. 
Christmas definitely came early for the Worthingtons this year and Lara Worthington is now the owner of a cool $200,000 Porsche Cayman, a gift from husband, and giver of great goods, Sa(m)ta aka Sam Worthington.
The model and fashion maven revealed the very luxe gift on her Instagram Stories.
However, even Lara was surprised at the gift, revealing that she was actually after a Toyota Prius, lamenting at her $160,000 upgrade, writing "#turbochared, I did ask for a Prius," on her Instagram stories.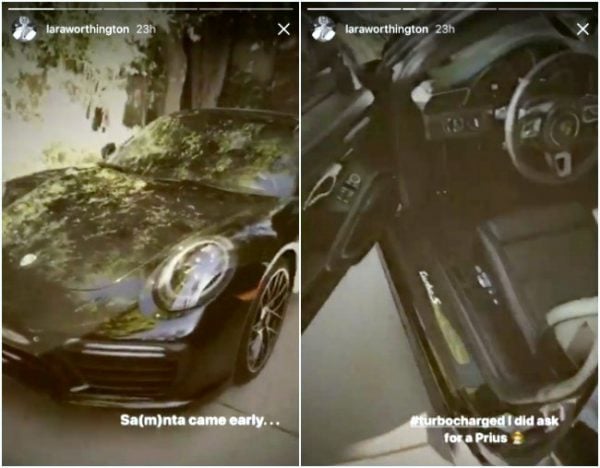 I mean... as happy Prius driving people who can definitely vouch for the popular mid-sized Sedan, all we can say is that we are definitely willing to swap.
So Lara, if you're reading this, please get your people to get in touch with our people and we can definitely make this happen.
2. The Bachelorette's Jen Hawke has accused The Bachelor's Jake Ellis of photoshop and we can't look away.
Ex-Bachie news is our favourite news, and today's dose has us squinting very hard at Instagram of none other than 2016 The Bachelorette contestant Jake Ellis, and for a very good reason.
Spilling the beans on her ex-Jake Ellis (keen viewers might remember he vied for the heart of Georgia Love), she appeared on the Blue Chip Podcast, and accused him of altering his Instagram photos.
"I mean, you go on Instagram and everyone's filtering their photos and dragging themselves in to make them thinner and some of the guys are even dragging their shoulders out to make them bigger," she said before straight out naming and shaming.