1. Sam Worthington's Christmas present for Lara Bingle costs more than an apartment. 
Christmas definitely came early for the Worthingtons this year and Lara Worthington is now the owner of a cool $200,000 Porsche Cayman, a gift from husband, and giver of great goods, Sa(m)ta aka Sam Worthington.
The model and fashion maven revealed the very luxe gift on her Instagram Stories.
However, even Lara was surprised at the gift, revealing that she was actually after a Toyota Prius, lamenting at her $160,000 upgrade, writing "#turbochared, I did ask for a Prius," on her Instagram stories.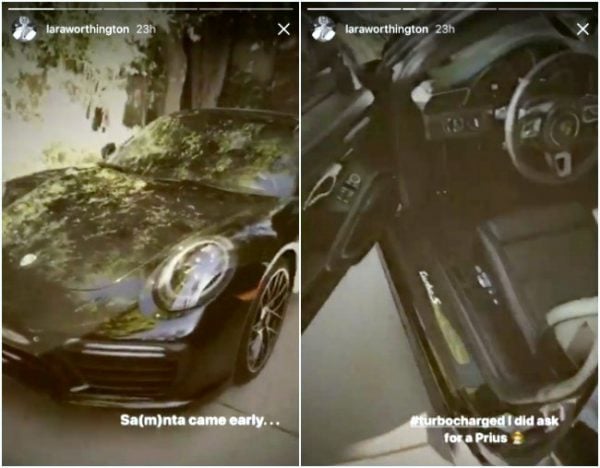 I mean... as happy Prius driving people who can definitely vouch for the popular mid-sized Sedan, all we can say is that we are definitely willing to swap.
So Lara, if you're reading this, please get your people to get in touch with our people and we can definitely make this happen.
2. The Bachelorette's Jen Hawke has accused The Bachelor's Jake Ellis of photoshop and we can't look away.
Ex-Bachie news is our favourite news, and today's dose has us squinting very hard at Instagram of none other than 2016 The Bachelorette contestant Jake Ellis, and for a very good reason.
Spilling the beans on her ex-Jake Ellis (keen viewers might remember he vied for the heart of Georgia Love), she appeared on the Blue Chip Podcast, and accused him of altering his Instagram photos.
"I mean, you go on Instagram and everyone's filtering their photos and dragging themselves in to make them thinner and some of the guys are even dragging their shoulders out to make them bigger," she said before straight out naming and shaming.
"Jake Ellis from The Bachelorette season two, I'm talking to you right now!"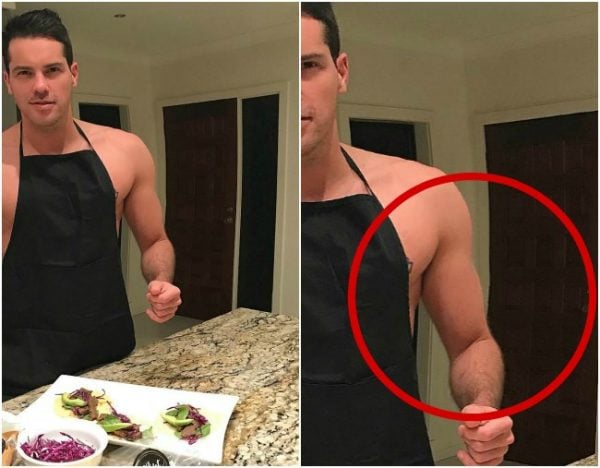 This naturally led to a very thorough Instagram investigation and as you can see the line of the door frame is definitely warped, suggesting that Jen is correct.
But... is this conclusive evidence or a trick of the eye? Hmmmm, we'll let you decide.
LISTEN: Is this Instagram account problematic? Jessie Stephens wants to know. Post continues after audio.

3. Laurina Fleure just used hail in her vegetable juice because she's goddamn Laurina Fleure.
She is the woman who made "dirty street pies" an aussie slogan, and now Laurina Fleure is putting hail in her vegetable juice. Because why not.
Captured on her Instagram Story, Fleure showed that consuming unprocessed, natural ingredients is as easy as going out into our backyard.
When it began to hail in her hometown, the ex-Bachelor contestant said "Surely it's alright to drink this, like, this just literally fell out of the heavens."
So, she filled up a glass up with hail and added some beetroot and carrot juice. Because, the more natural the better. And what is more wholesome, organic and pure, than hail? Nothing. The answer is nothing.
4. Where you can watch the new Little Women series this Christmas.
In case you've been living under a rock, we have been blessed by the Christmas god's and will be bestowed by a new Little Women remake this Christmas.
Wholesome viewing, puffy, praire-chic dresses and a good old fashioned coming-of-age story with a dose of laughs and love thrown in for good measure, what more could you want from a Christmas special.
While it's being released by the BBC in the UK, we now we have official confirmation that Aussie streaming service Stan will be stepping in and filling our dull, Little Women-less hearts.
The three-parter will be dropping one 'episode' a day starting from the 27th of December so watch the trailer asap and get pumped.
5. Mindy Kaling gives birth to her first child, bucks bizarre baby name trend.
Very big news... Mindy Kaling has given birth to her first baby and we are positively chuffed.
The comedienne, actress and writer has followed an increasing trend among celebrities and gave her child an alliterative name.
And without further ado... welcome to the world Katherine Kaling.
You can read all about it in our original article.
LISTEN: This is what women are talking about this week. Listen to the latest episode of Mamamia Out Loud with Mia, Holly and Jessie - Meghan Markle's Family Christmas Is Scarier Than Yours.