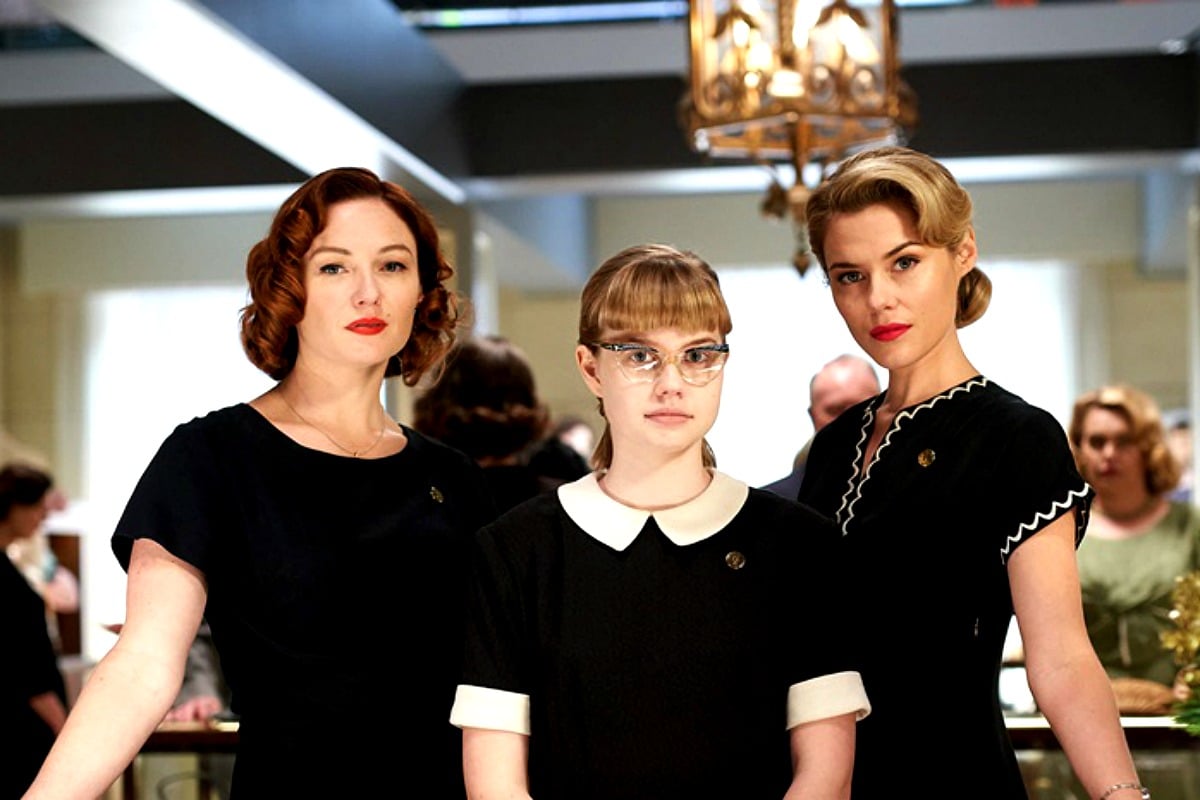 It can sometimes feel that for us modern-day ladies, life can be a little rough.
After all, statistically we get paid less than our male counterparts, our bodies are seen as public property and although we're allowed to follow our own career dreams and toil away in the workforce (lucky us) it can sometimes feel like we haven't really come that far at all.
It's a feeling that can make you long for the glamour and romance of a bygone era like the 1950s.
However, sometimes a piece of pop culture makes its way into your world and really just puts everything into perspective for you.
For me, that moment came when I watched the extraordinary Australian film Ladies in Black  (now on Blu-ray, DVD & Digital), which is based on Madeleine St John's bestseller. It's a movie that, while beautiful to watch and featuring a cast of talented Aussies, made me think that not only have we come a long way since the 1950s, it also made me think I may not have survived the era I was romanticising.
Here's a little breakdown of how the 1950s compares to now, just in case anyone else was having a longing for a time where women were not allowed to make their own choices (but they did wear some great clothes!).
Dating
Do you know what we've lost in this era of modern dating?
The answer is the complete lack of interest for friends and family of single people to set them up on dates.
Setting up unlucky in love friends with other unattached comrades used to be a very popular pastime (for some, it was even a career choice) but nowadays anyone on the lookout for a permanent plus one is left with only one friend who is willing to help them out…a friend called Tinder.
On the other end of the spectrum, women of the '50s didn't have an app to help them swipe their way towards love and in many cases very much relied on the help of their friends to help them find a match.
While there is a refreshing independence to being able to take your dating future into your own hands, I also long for a time when trusted friends would jump in and lend a hand.
Ladies in Black offers up a prime example of the good that can happen when set-ups go according to plan, with the character of Magda (Julia Ormond) setting up the frustrated Fay (Rachael Taylor) with the very compatible (and very good looking) Rudi (Ryan Corr). It's a set up no-one would think to offer today, but a good reminder that our friends sometimes know us best.
I know sisters are doing it for themselves and all that…but we're also a little exhausted and could use some help in this modern world, thanks. In this case, I'll have to allow a partial point to the '50s for embracing the set-up trend, but at least nowadays we have more freedom to date whoever we like.