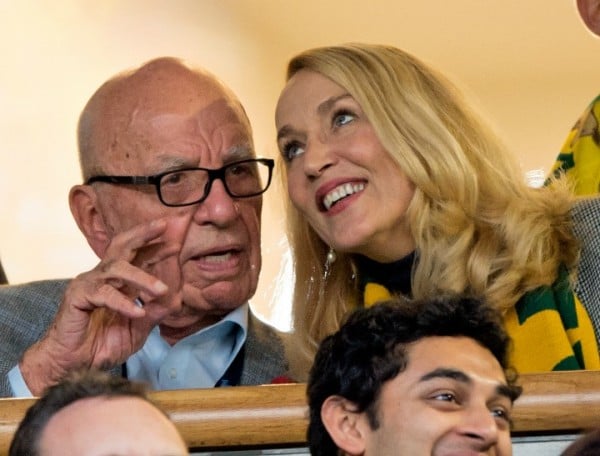 After months of rumours Kylie Minogue has gone public with her "young hunk" boyfriend, actor Joshua Sasse. The couple posted loved up photos on Instagram during the Rugby World Cup on Saturday, confirming their relationship. Minogue, 47 and Sasse, 27 met when she guest starred on his American TV series Galavant earlier this year and there have been reports on their romance since September. It's not the first time Minogue has dated a younger man. She was with Spanish model Andres Velencoso for five years until they split in 2013.
Like Debrief Daily on Facebook. 
Most fans responded positively to the news that Minogue was in a serious relationship again, posting messages like, "Love these two together" and "Be good to our Kylie" however it has been the response to their difference in age that has been disappointing. Women still face a double standard when it comes to age differences in relationships. Society still finds it more acceptable for a man to be older than a woman in a relationship, which is why their age difference is being presented as the most interesting thing about them. Clearly it's not. As anyone who has been in a relationship with a significant age difference knows, when it comes to love, age is just a number.
I'm lucky. I've always been attracted to much older men as opposed to much younger men, making my two most serious relationship more socially acceptable than poor Kylie Minogue. My first serious relationship was when I was 19 and my boyfriend was 39. Okay, that ruffled a few feathers, mostly because of how young I was at the time. If I had been 29 and he 49, nobody would have shown any concern. As it stands, my husband of 12 years is 12 years my senior. We've never had anyone question our relationship (to our faces) and once you've been together for a while, have a few kids and bills, you rarely think about it. We only consider our age difference during important moments like when we are trying to choose an 'old movie' to watch. Our definition of 'old' differs greatly, or when we are listening to a song that is new to me but that my husband confidently informs me that it is a cover of an old Eagles song, then I'll roll my eyes, we'll laugh and that's about it.
It hasn't always been easy. A former friend of mine who was unfortunately part of my bridal party took the time during the reception to tell a mutual friend that I was only marrying an "old man" because he was rich, which was news to us considering he wasn't anywhere near rich. I just loved him and he loved me. Our age difference was nothing to us and we couldn't understand why it would be an issue for anyone else.
And there are so many more interesting things about Kylie Minogue and Joshua Sasse than their age difference. Minogue is one of the most incredible talents Australia has ever produced, singing and acting her way to fame and showing no signs of slowing down. She recently starred in hit Hollywood blockbuster San Andres. Spoiler alert - her character didn't make it but the manner of her death is the thing movie moments are made of. Joshua Sasse is a rising star. He has been acting since 2010 with TV series Rogue being his biggest achievement to date until Galavant was picked up.
Despite still being single until recently, Kylie Minogue has always had a really healthy view of her love life, refusing to give any credibility to claims she is "unlucky in love".