One of the most efficient ways to get parents fired up is to bring up the subject of pocket money.
Every family does it differently – monthly, fortnightly, in coins or online transfers, roster systems and magnetic charts. Or not at all.
Trish Lott and her husband struggled to find a pocket money system for their primary school-aged kids that struck the right balance between being able to give them things they really need and allowing them to take some responsibility in earning money for the things they want.
"In the past I've done the sticker chart, the stamps, the weekly pocket money if chores were done and my kids just weren't interested. I was constantly nagging them," she told Mamamia.
"My kids have pretty much always got what they wanted, I would go to the shops and they would always walk out with something. Totally all my doing, but I wanted my kids to start to realise that it's not always like that. They haven't been able to understand 'not today mate, Mum can't afford it'."
But after seeing some ideas online from overseas, Trish came up with an easy pocket money hack that's managed to get her three kids aged four, six and eight excited about doing chores. Yes, excited.
The best bits? It'll cost you less than $20 and an hour of your time to make, and you'll find everything you need at your local Kmart store.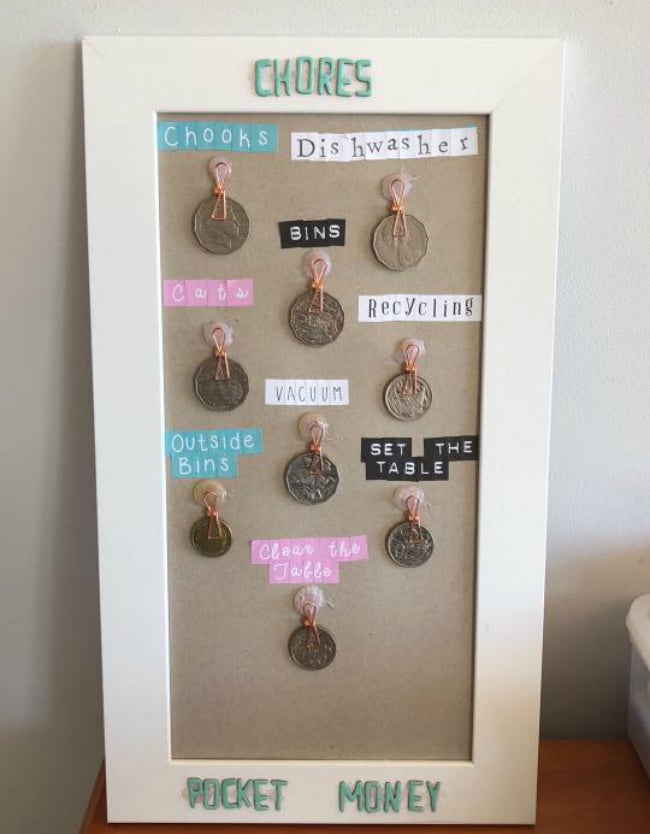 Sharing her pocket money board in the Kmart Mums Australia Facebook group earlier this week, the end result was a clear, easy system both she and her husband, as well as her kids, could use to keep track of chores and pocket money. Not including the extra hours/days spent browsing through the Kmart homewares section.
To recreate Trish's pocket money board, you'll need: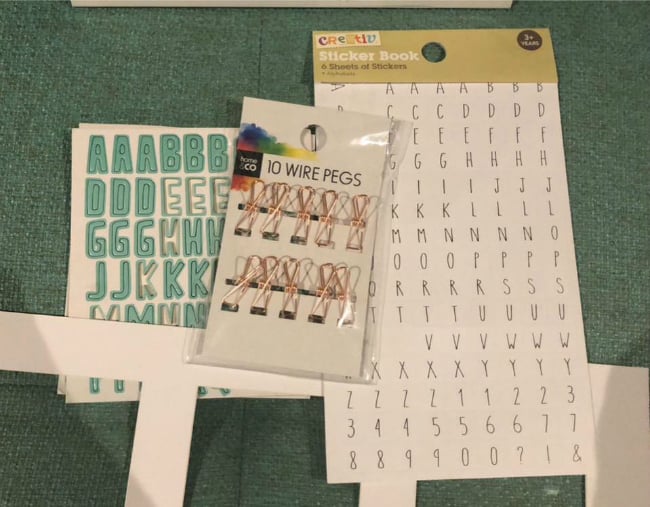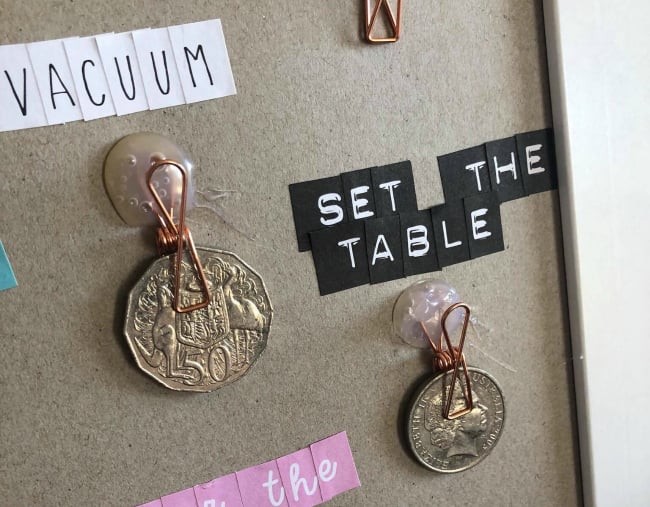 Since bringing it into their family routine around a month ago, Trish said it's been working brilliantly for them.
"My kids see it refreshed with money every morning and are keen to do the jobs to help get some money. I thought about having small amounts of money and having it as a visual for them so they can see the end reward for helping out.
"All three kids have a Lay-by on at the moment, my eldest is almost ready to pick up a $129 Lego set that he has paid for completely himself. He is so proud of himself and I am proud of him too. Now they are learning all about saving and counting money which is a great skill especially for my two boys in school.
"Since my kids are still fairly young, we can quite happily give 50 cents or 20 cents for a chore. Not sure how it will go when they are older but at the moment it's working great. My four-year-old daughter dances around like she's won the lotto when she puts her 20 cents for feeding the cats in her money box. It makes me so happy."
Trish has been overwhelmed by the positive response to her "little Kmart idea" in the Kmart Mums Australia Facebook group.
"I love this! Most kids want large amounts of pocket money but this is teaching them to earn it," one commented.
"This has got to be the best one I've ever seen!! Good to see only small amounts of money too!" another wrote.
Another mum added, "I have been keeping my eye out for ideas for my kids to encourage helping out around the house, and I love this!!! Will definitely be making something like this and giving it a shot! Love that it's all mostly silver coin too."
Is it okay to bribe your kids to do chores? We speak to a mum who's all for it, on our podcast for imperfect parents.
Aside from taking some of the pressure off the parents, Trish said this pocket money system works so well for her family because it keeps everyone accountable.
"My children are being raised to be good helping members of our family. They are taught that it takes all five of us to run the house, not just me and their dad. There are lots of things that my kids do such as cleaning their rooms, helping with putting groceries and clothes away and packing up the toy room that they don't get money for.
"But these are the things they do because they are a part of our team and they help run this house. They're purely there so [my kids] can earn some money to buy the things they want, and learn about saving and having pride in yourself."
As for that 50 cent coin for vacuuming?
Trish says it's yet to be touched, but she's quietly hopeful.
Have you seen another great pocket money hack? What works for your family?