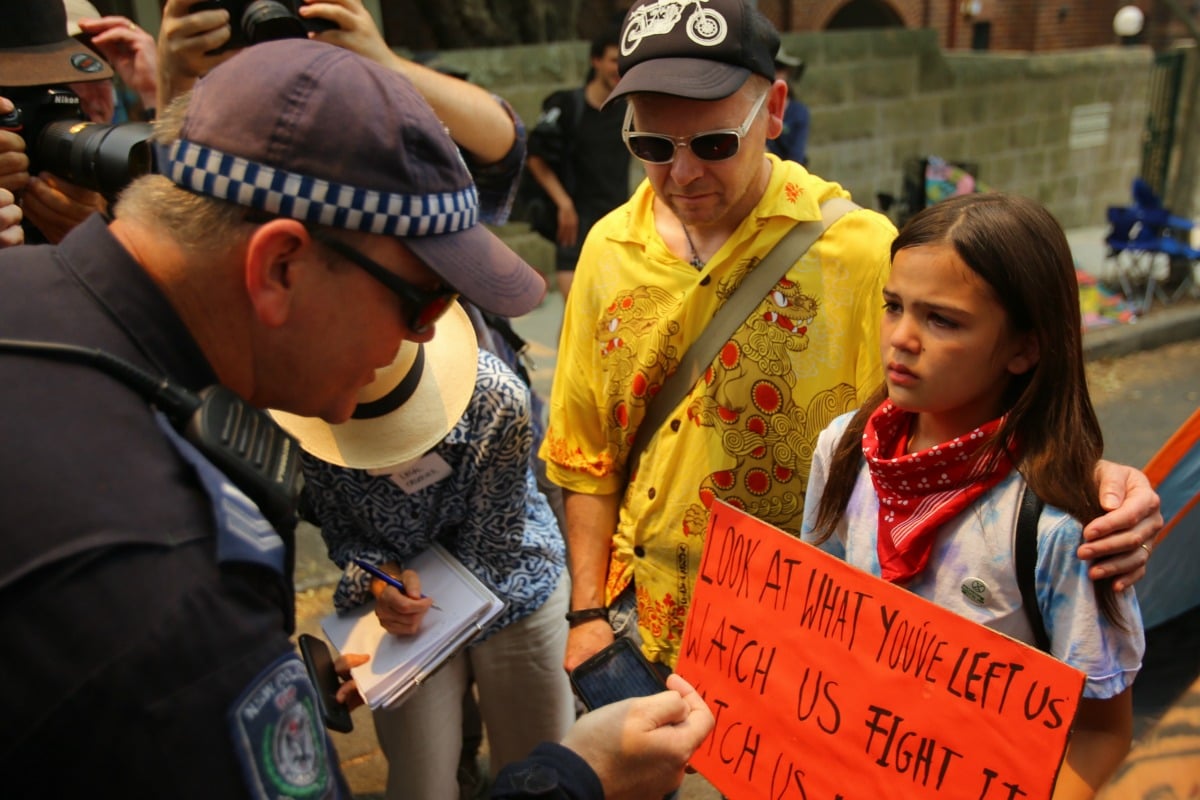 13-year-old Izzy sobbed, clutching her handmade sign, as a police officer crouched down and read out her rights.
"I am directing you, and your father, to cease your actions which are preventing police from reopening this closed road.
"This road was temporarily closed in accordance to the Road Transport Act to allow your safe movement.
"I now direct you to move off this closed roadway so we can reopen the road. Should you fail to comply with my direction you may be arrested – force may be used.
"Do you understand Izzy?"
"Yes" she replied, before walking away from the officer, holding her sign high in the air.
You can watch that interaction here. Post continues after video.
As the little girl and her dad left their protesting post outside the Prime Minister's Kirribilli residence, the cheers of fellow protestors followed them.
"Look at what you've left us. Watch us fight it. Watch us win," Izzy's sign read, her protest reminiscent of the feelings of lots of young climate change warriors all led by their hero, Swedish 16-year-old Greta Thunberg, who has rallied the globe to join her protests this year.
As public anger has grown about the Prime Minister's absence during the bushfire emergency, hundreds yesterday set up camp outside his home.
"Where the bloody hell are ya?," was the more lighthearted sentiment, while signs reading "How dare you" told the angrier side of the story.
They vowed to stay put until Scott Morrison returned, which is what he's now decided to do. The Prime Minister has called his family holiday in Hawaii short and is coming home – the announcement was made as news of the deaths of two volunteer firefighters broke this morning.
Deputy Captain Geoffrey Keaton, 32, and firefighter Andrew O'Dwyer, 36, were killed when their fire truck rolled, after a falling tree struck the cabin of their vehicle last night.