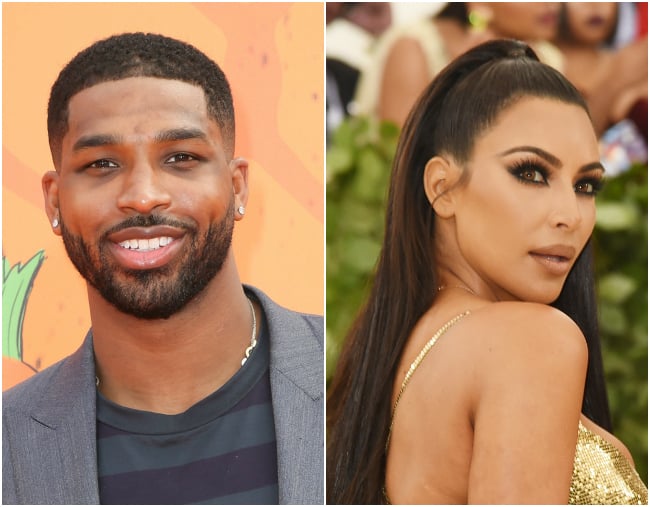 When Kim Kardashian West made her feelings about her sister Khloé's cheating partner be known, it cost her a whole Instagram follower. And she's not prepared to make that mistake again.
In an interview on US talk show Live with Kelly and Ryan on Friday, the 37-year-old reality star and entrepreneur tread very carefully around the topic of Tristan Thompson's infidelity, revelations of which surfaced just days before Khloé gave birth to their first child, True, on April 12.
Asked if she was rooting for the couple, Kardashian West replied, "OK, last time I went on TV and I answered some questions about her I got blocked on social media — and not from Khloe.
"So, I'm going to…yes, I'm always rooting for her. I'm always rooting for love. I'm always rooting for families."
The revelation about Thompson's infidelity came courtesy of footage released to the media in which the Clevaland Cavaliers basketball player appeared to be kissing an unidentified woman in a New York bar.
Just weeks later, Kardashian West spoke about the situation on The Ellen DeGeneres Show.
"I don't even know how to describe it besides it's just so f***ed up," the mother of three said.
"I think the family gets so emotionally invested in who each other's with. You know, we treat them like family and we give them our whole soul. We were really were rooting for Khloé, and we still are – she's doing the best that she can. It's a really sad situation all over."
During that April interview, Kardashian West said her sister was still living in Cleveland, but was focusing on spending time alone with her baby.
"She wanted to have some alone time with the baby and figure out what her next steps are," she said. "It must be so hard to have your heart broken and fall in love all in a day or two, all at the same time."
Thompson and Kardashian went public with their relationship in September 2016 and announced their pregnancy on December 20 the following year.