Kim Kardashian-West may have expensive taste when it comes to clothes, cars, accessories and you know, nearly everything else, but turns out there is one area of her life where her budget and ours intersects.
Beauty.
And we know this for sure because guess who was diligently taking notes during Kim K's Beauty Week tell-all that she ran on her website earlier this year?
We were, with our eyes rapidly scanning the page for the key takeaways and beauty information.
Sharing her skincare tips and recommendations, Kardashian-West emphasised the importance of exfoliation – a simple step that can make a big difference to your skin. In fact, she argued that it's one of the most important anti-ageing steps (aside from sun protection of course) you should be doing in your 20s.
"You should exfoliate once per week. You can use a physical exfoliator, like a facial scrub, or a chemical exfoliator, like a glycolic peel that helps resurface skin's texture and prevent acne," she wrote.
While a chemical exfoliator may seem more intimidating, they can actually be less harsh on the skin. Making the switch from physical to chemical was the best decision I made for my skin last year.
This method of exfoliation uses chemicals – namely – acids to remove dead skin cells which smooths and brightens skin.
The best product to use according to the 37 year old? Nip + Fab's Glycolic Fix Cleansing Pads.
Retailing for $34.99, but now on sale now for $24.99 on Mamamia Shopping, the pads are soaked in exfoliating glycolic acid which helps slough off all the dead skin cells.
They're also packed with hyaluronic acid to moisturise and refresh skin, and blue daisy to calm it.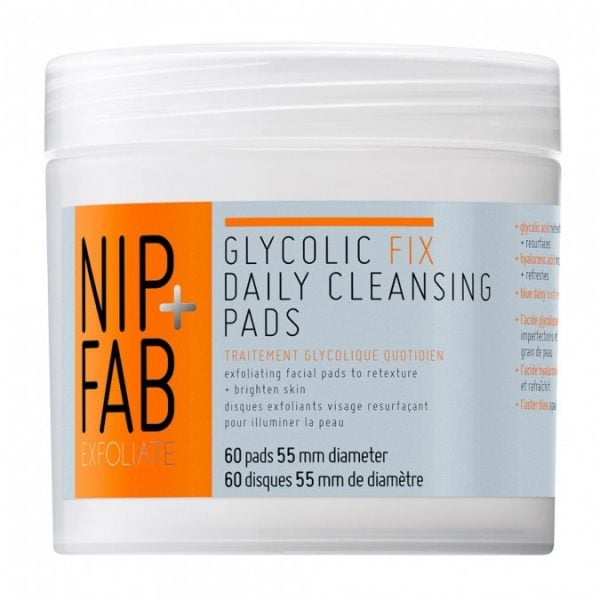 The Kardashian's favourite makeup artist Mario Dedivanovic is also a fan.
"Loving these glycolic pads! They exfoliate the skin to create the perfect base for makeup," he's said previously.
You don't need water or anything else to use them, making them perfect for travel, and it also comes in a mask formula (Nip + Fab's Glycolic Instant Fix Mask $19.99) with a higher concentration of glycolic acid that you can use the night before a big event,
Also if you factor in the cost per use of the handy 60 piece tub, that's just 40 cents per swipe.
Excuse us, we'll take two.
A whole range of Nip + Fab's Glycolic Fix range is currently on sale at Mamamia Shopping. You can buy the Nip + Fab's Glycolic Fix Daily Cleansing Pads ($23.99 for 60) or for an extra dose of nighttime glow go for the Nip + Fab's Glycolic Fix Night Pads Extreme ($23.99 for 60).