Kim Kardashian has spoken for the first time about being robbed in her Paris hotel room in October.
In the trailer for the latest season of her family's reality show Keeping Up With The Kardashians, a tearful Kim is shown discussing the shocking event.
"They're gonna shoot me in the back," she says in the trailer. "There's no way out."
"It makes me so upset to think about it."
The 36-year-old's sister Khloe is shown embracing her, before Kim reacts to news of her husband, rapper and musician Kanye West, experiencing mental health issues.
"Don't scare me please," the entrepreneur says on the phone. "What's going on?"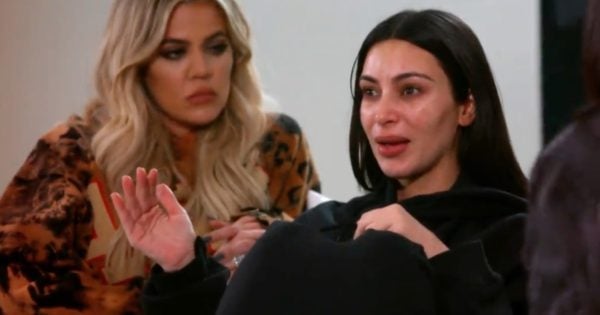 "I think he really needs me and I need to go home," Kim says.
West was hospitalised for "exhaustion and sleep deprivation" in November. A recording obtained by TMZ from the Fire Department dispatch referred to the incident as a "psychiatric emergency".
The duo have lead a distinctly more private life since the October robbery, with Kim only just returning to social media on Wednesday. Her first Instagram post was a photo of herself with her husband and children North, 3, and Saint, 1.
Since the initial post Kim has posted five more photos of her family. The images seem much more candid and relaxed than the glamorous images that she posted prior to the robbery.
The latest season of Keeping Up With The Kardashians will premiere on E! in March.
Listen: Mamamia Out Loud discusses the robbery.