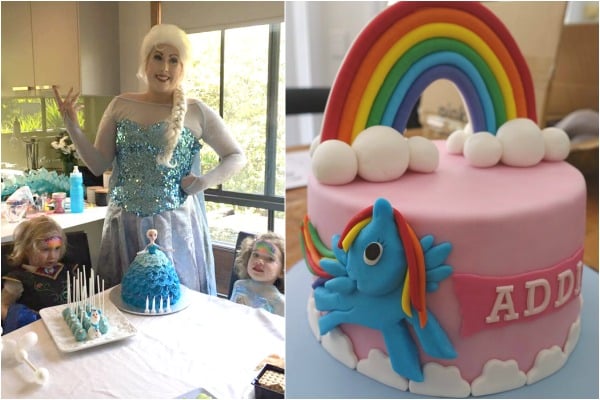 About six months before her birthday, my eldest daughter Addi started planning her party. She decided on a theme, the games we would play and the guest list.
For Addi, her birthday party was the subject of conversation at least once a day for months prior to the actual event. Except this year, we had decided not to have a party for her, actually, not for anyone in our family. It was a rest year from the world of parties because to be honest, kid's birthday parties are hard work and I needed a break!
Addi was surprisingly okay with it *sigh of relief* and I was over the moon that for one year, I didn't have to deal with all the drama that comes along with children's birthday parties (well, at least the ones I had to organise). For me, these events were actually something I was starting to resent, dare I say it, starting to hate.
I think I started feeling this way because not only are kid's parties beginning to take on a world of their own in general but also, because I was in the full grips of this 'kid party world'. I was being totally overcome by all the ridiculous, over the top aspects that seem to be getting more and more popular. So, it is with a heavy heart that I announce that I was (selfishly) becoming the reason I started to hate kid's parties. And this is why:
Speaking of birthdays, we have a controversial question. Should you sing Happy Birthday in restaurants? We ask team Mamamia.

1. The politics of who is invited (or who isn't).
Kids birthday parties have become such a complex game of social and playground politics that the thought of deciding who is invited or who isn't has literally kept me awake at night.
Whether it is that everyone in the class is invited and the thought of 25 kids running around under your supervision sees white hairs sprout from my head, or the variety of other options to try and contain it to a smaller event, it is a tricky balancing act to get right.
I've witnessed 'gender only' parties that are based on the sex of your child, a child's choice where a select few from the class are invited and others aren't, as well as many other variations. It is often a stress inducing task trying to keep your child happy and not upsetting the ones that weren't invited (or their parents).