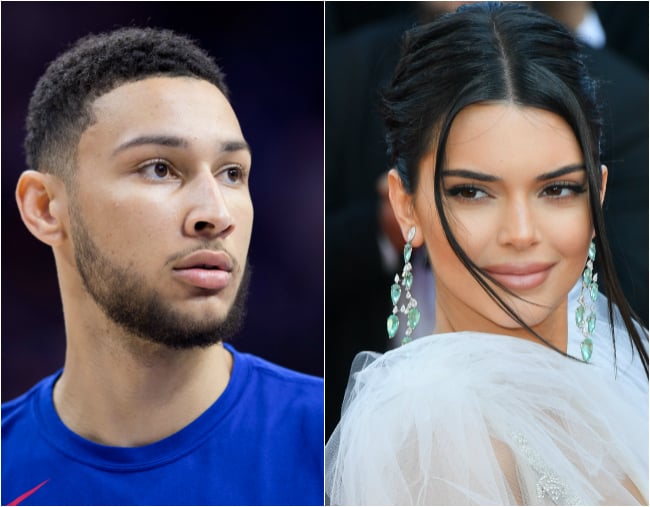 It's happened. An Aussie has reportedly cracked kracked his way in to the Kardashian inner circle. According to Page Six, Melbourne-born basketball star Ben Simmons has been dating, Kendall Jenner (yep, that's the model one).
The US tabloid reported that the pair have been together "for a few weeks" now, and have been spotted multiple times at restaurants in Beverly Hills and New York City, including trendy eatery/cocktail lounge Vandal where they dined last week.
"Security measures seemed to have been taken to ensure Kendall and Ben enjoyed their night hassle free," a source told Page Six. "They were smiling the night away with their friends."
Jenner, 22, recently split from another NBA player – Detroit Pistons power forward Blake Griffin.
The reality television star/supermodel is famously private about her relationships, and has commented neither on the breakup nor her rumoured new relationship.
But if sources say it's true, well…
So, who is Ben Simmons?
Simmons was born on 20 July 1996 in Fitzroy, Melbourne, to American-born father and Australian mother. He is the youngest of six children, including four half siblings from his mother's previous relationship.
The family moved to Newcastle when Simmons was 18 months old. And it was there, at the age of seven, that he began playing basketball, inspired by his father – a former Melbourne Tigers NBL star.
At 15, Simmons was awarded a scholarship to the Australian Institute of Sport, before moving to the US to complete his final years of high school. From there he attended and played for Louisiana State University, before being drafted into the NBA in 2016 with the Philadelphia 76ers.
He hasn't forgotten his roots, though. In October, Simmons signalled his intentions to play for Australia at the 2020 Tokyo Olympics.
Jenner isn't Simmons' first famous girlfriend.
Prior to dating Jenner, Simmons was in a relationship with recording artist Tinashe. The pair started dating in late 2017, but the '2 On' singer confirmed her romance with the athlete during an interview with Billboard.
"He's like my full boyfriend, I guess," she told the publication. "Yeah, you heard it here first."
Did Ben Simmons cheat with Kendall Jenner?
According to Tinashe's family there was overlap between Simmons' two relationships. The singer's youngest brother, Kudzai Kachingwe, has unleashed at the basketballer on Twitter, claiming the former couple only split on Monday.
"Days after u break my sis heart u do this … ppl all lied on her talking fake news about my sis "doing kardashian s***" u cheat on her w a Jenner," he wrote.
He later added, "Sorry for blowing up y'all twitter everyone. It was actually the only way to defend my sister against all this bulls***."
Simmons is yet to comment.