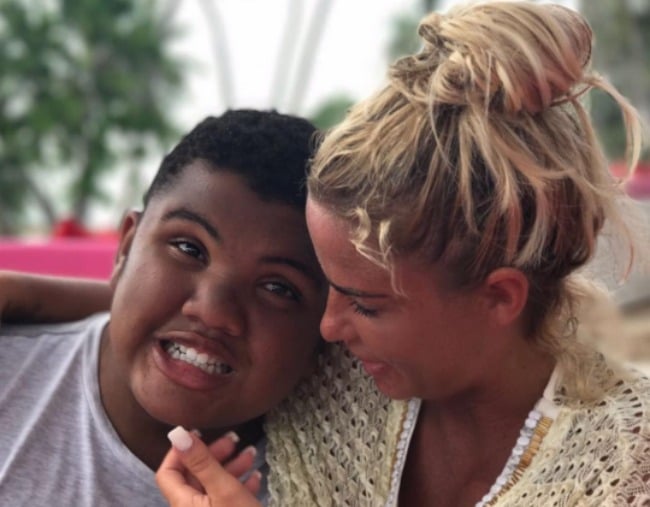 Glamour model and disability rights campaigner, Katie Price, opened up about the tough decision to place her eldest son, Harvey in residential care last week.
Speaking on British chat show This Morning, the mother of five said the decision to place 16-year-old Harvey into care at his boarding school was difficult but necessary.
Harvey lives with autism, partial blindness and Prader-Willi Syndrome, a rare genetic disorder that affects mental and physical development.
"On Instagram, I only show him when he's good. But he's got a side to him. My house is smashed to bits. This year he has broken eight iPads and four TVs. Someone might bang the door and he'll chuck something," she told This Morning.
"Some people think I'm out of order [sending him into care] but people don't understand the situation."
Price, who has cared for her son alone without respite, recently told the BBC she has to bath him, dress him and ensure he takes his medications.
A number of people criticised Price's decision on social media, with some trolls accusing her of wanting to "replace" Harvey following her recent announcement that she would like to adopt an orphan from Nigeria.
But what these trolls fail to remember is that Price takes care of her son on her own.
Harvey's father is former Trinidad and Tobago, Manchester United and Sydney FC football player Dwight Yorke. He has nothing to do with his son.
Price and Yorke dated briefly in 2001. When 14 weeks pregnant, Price discovered Yorke had cheated on her while on camera for a lingerie photoshoot.
Price made her pregnancy public following the betrayal and Yorke initially denied being the father until a DNA test proved otherwise.
Yorke did turn up to the hospital following Harvey's birth, but soon decided he did not want to be part of his son's life.