1. Karl and Peter Stefanovic's 'carefully worded' apology is a "pre-emptive strike before the atom bomb hits."

In the next chapter of 'Uber-gate,' Karl and Peter Stefanovic have given an in-depth apology over certain very controversial things recorded in an Uber car recently.
It's believed that tabloid publication New Idea has purchased the Uber tapes for $50,000 and will be publishing a very detailed exposé tomorrow, Despite this, they're claiming that it will be based off written notes because such covert recordings are illegal.
Addressing the Georgie Gardner issue directly, Karl told The Sunday Telegraph that it was a definite miscommunication.
"For the record, Georgie Gardner is killing it. She's the best thing to happen to the show in years," he said.
"She's hungry, she's working hard and making the show better every day.
"I love working with her. Anyone says differently, they don't know."
The younger Stefanovic brother is remorseful too and said that he's apologised to the affected people directly.
"I have spoken directly to the people involved and have offered my sincerest apologies as I have been raised to do: Do something wrong, apologise and try to move on.
"I did a silly thing and feel awful for any embarrassment I've brought to my colleagues, who I deeply ­respect."
Journalist Peter Ford, who broke the story, referred to the apology as, a "pre-emptive strike before the atom bomb hits."
The brothers also addressed the fact that they've invested in hands-free ear pieces and are now both firmly taxi people only, but more on that below…
2. Carrie Bickmore made the most gorgeous cake for her daughter's birthday.

There are mums who are geniuses with a birthday cake, and then there are mums who opt for a pre-iced Woolies cake and call things a day.
Both are completely valid, but Carrie Bickmore falls into the former category.
Celebrating her daughter Evie's third birthday, The Project presenter created a fantastically magical Minnie Mouse pink marvel complete with loads of musk sticks, a bow AND glossy ears.
How does she do it?
She even captioned the post with, "Minnie is proud of her wrinkles," because a) the cake had some minor cracks and b) it's never too early to educate the young-uns about unrealistic beauty standards.
All in a days work eh?
PSA a warngin from the sugar police. Dentists are nos shaming parents for packing sugary lunch boxes and that includes poppers and birthday cakes. Post continues after audio.

3. People can't stop talking about Ben Affleck's bizarre back tattoo.

Someone pls call the back tattoo police.
It turns out Ben Affleck's 'phoenix rising from the ashes' back tattoo could very well be real.
In case you missed it, the tattoo in question was first spotted in 2015. At the time Affleck told Mario Lopez it was, "fake for a movie".
"I actually do have a number of tattoos but I try to have them in places where you don't have to do a lot of cover up. They get sort of addictive, tattoos, after a while," he lied said.
His ex-wife, Jennifer Garner, then had a giggle and insinuated that the ashes in the phoenix and ashes tattoo were meant to represent her, and by extension their failed marriage.
But then Affleck put his back away and no one spoke of it again… until now.
Ben Affleck and Jared Leto's Joker have the same tattoo on their backs?! :joy: pic.twitter.com/4CGXsEfncv

— Batman-News.com (@BatmanNewsCom) March 16, 2018
The 45-year-old actor was photographed this week with his shirt off on a beach and whaddo you know, there was the ole' phoenix rising from the ashes again.
Affleck has yet to comment on these photos… probably because he's very busy at the tattoo removal clinic.
4. Karl Stefanovic is reportedly "suing Uber" for breach of contract.
According to the Daily Mail, Karl Stefanovic is planning to sue Uber for breach of contract.
A "source" close to Stefanovic's team said the 43-year-old is "issuing legal proceedings" for a "breach of contract and privacy". The "source" believes the paperwork will be filed by the end of the week.
In case you missed it, an audio recording of Stefanovic discussing his Today co-host Georgie Gardner, with his younger brother, Peter, has been obtained by an Uber driver.
Peter was sitting in the back of an Uber, talking to Karl on speakerphone, when the conversation took place.
As a result, the recording could not be sold to media outlets, however, it's reported New Idea will run a story on Monday about the contents of the conversation, as "recalled" by the Uber driver.
Speaking to The Sunday Telegraph, Karl said, "Pete and I were guilty of having a spray after a Sunday barbecue".
"We talk a hundred times a day and hardly ever about work. Mainly about his terrible golf.
"But we did, and the conversation was recorded. And we are sorry. I was angry with myself at first that I could be so stupid."
During the conversation, the brothers also discussed other people they work with at Channel Nine, including Richard Wilkins and Mark Calvert.
5. Margot Robbie was once told she was 'too Australian' for Neighbours.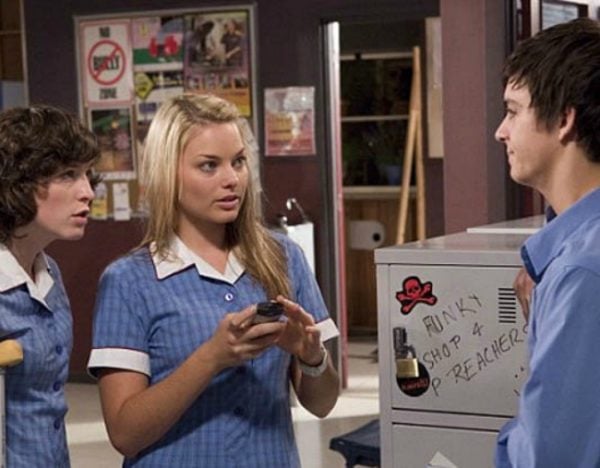 Apparently Margot Robbie had an accent that was too "bogan" when she was on Neighbours in 2008.
"When I was on Neighbours they hired a dialect coach to make me sound less Australian even though I was still playing an Australian character," Robbie told the Herald Sun.
Robbie was on Neighbours until 2011 before she left to find work in Los Angeles. And now she's sort of, kinda, kicking arse over there right now.
At the recent Academy Awards, Robbie was nominated for best actress for her part in the film 'I, Tonya', which she starred in and produced.
Shout out to all Dads.
Here at Mamamia we are always looking for ways to make Mamamia even better. Dads, we need you to help us do that by filling out this quick 15 min survey for us. Click the button below for your say.

Want to win some skin care goodies? Like to have your opinion heard?
Take our short survey now for your chance to a win a skin care pack.