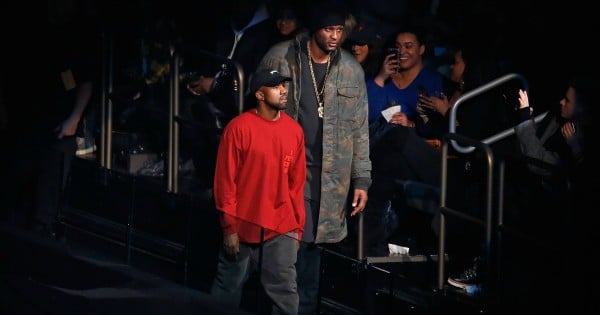 2016 is unfolding to be a year of feuds, fighting and displeasure for Kanye West.
It started with his Twitter feud with old flame Amber Rose and her new man Whiz Khalifa. Now, he's lit fire to an old flame — the battle between him and Taylor Swift.
Now, this story is quite involved. We suggest you sit down and grab the popcorn…
The Kanye vs Tay Tay feud began way back in 2009 at the MTV VMA's when West infamously (and drunkenly) interrupted Taylor Swift on stage, as she was receiving her award.
No matter if you're team Yeezy or team Tay Tay, we can all agree that his actions that night were definitely out of line.
Of course, Kanye has never been one to shy away from the spotlight. Remember when he said he was going to become President of the USA and left pretty much every event like this? (Post continues after video)
But, it seems he's slightly outdone himself this week. On Thursday, Kanye held a fashion show/album drop at Madison Square Garden. He debuted his new album, The Life of Pablo, formerly known as Waves which he claimed was half written by his late father-in-law, and one of the songs featured some very questionable lyrics:
"I feel like me and Taylor might still have sex
Why? I made that bitch famous
God damn
I made that bitch famous."
These lyrics are obviously in reference to the birth of this celebrity feud, and while Taylor's reps say they were unaware of any lyrics specifically referring to her, she had warned him about having misogynistic words.
Kanye reportedly asked Swift to share the song "Famous" on her Twitter which "she declined and cautioned him about releasing a song with such a strong misogynistic message", a statement reads.
And of course, Kanye was quick to respond.
Other celebrities were quick to criticise Kanye. Ruby Rose took to Twitter to defend Taylor, along with the other "women he has hurt recently".
Gigi Hadid was at the show, but had this to say:
Jaime King expressed her disappointment on Twitter as well.
And Taylor's brother uploaded a video to Instagram, expressing his feelings about the whole saga.