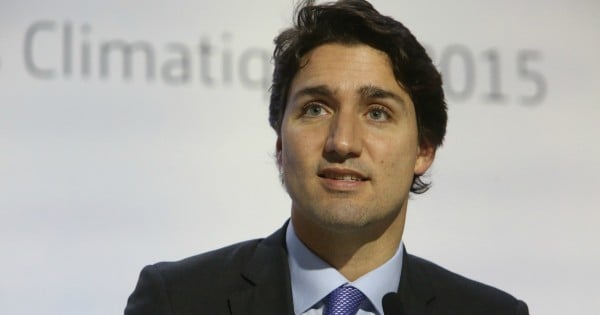 Dear Mr Canadian Prime Minister, Justin Trudeau. (Can I call you JT? I feel like you're cool enough to let me call you JT.)
Listen up, JT. I'm a little bit in love with you.
Before you go calling your bodyguards to restrain me, I am a) nowhere near your house and b) talking about you in a political sense. Despite the fact that you are so handsome you make women everywhere blush, I don't wish to objectify you and pretend that your looks are all you have to offer, as I would be furious if that was done to a female politician.
Dear @POTUS, @FLOTUS and @KensingtonRoyal – did someone say "bring it?" Canada's ready for @InvictusOrlando.https://t.co/TxBAMPvTYs

— Justin Trudeau (@JustinTrudeau) May 2, 2016
However, I very much enjoyed your campaign video last year that was based on your luscious, luscious hair. Because it showed that you have a great sense of humour, and it discussed your luscious, luscious hair.
Okay, I'm done talking about your hair. You're probably sick of people doing that. Our former PM Julia Gillard would sympathise with you.
Anyway, the reason I have a bit of a political crush on you is not because of your looks. It's because of that glorious, delicious f-word. That f-word that drops like a bomb in a room of politicians. That word that makes me feel a little bit excited.
Feminist.
You said it best, JT. "We shouldn't be afraid of the word 'feminist'. Men and women should use it to describe themselves any time they want." BOOM. F-bomb explodes. "The Liberal government is committed to working with the provinces and territories to ensure that women receive equal pay for equal work." BOOM. Take shelter, lesser politicians.
"The days when old men get to decide what a woman does with her body are long gone. Times have changed for the better." BOOOOOOOOOM. And by the way, thanks for banning any future candidates from joining your political party if they don't support a woman's right to choose. That was pretty chill of you. (Okay, it was awesome. I'm gushing again.)