We've all had the fantasy of not having to take our doona off when we leave the house. Rachel Wagner did just that today – but you'd never know.
You see, at first glance the 26 year-old's Gorman-esque jumpsuit looks like it could have come with a three figure price tag. In fact, she made it herself from a doona cover she found in an op shop.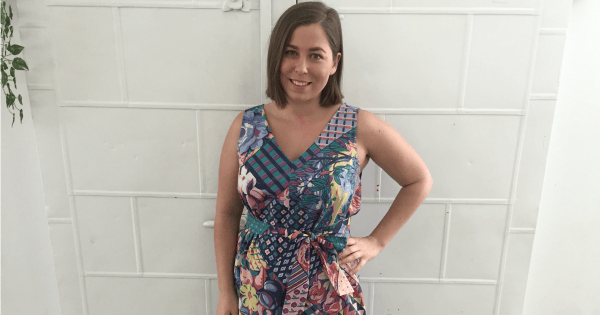 "The salvaged doona is an old sewing secret as it means you can find bulk fabric for next to nothing. And jumpsuits are a big fabric hog!" she tells Mamamia.
"I was rummaging through the masses of drab beige bedding, I found this one and cracked up. So that was a promising sign. This would have been $10 max from Brotherhood of St Laurence.
"It's a little bit Ken Done, a little bit Gorman and just disgustingly OTT. I figured at the worst I would get a smile out of it going through my machine."
Despite getting many comments on it, Wagner says it actually wasn't intended to be worn outside.
"To be perfectly honest, this was never supposed to leave the walls of my home! I went out in search of some cheap fabric to make a toile (a practice version) of the jumpsuit to check the size and fit of the pattern before I took my scissors to the fancy (and a lot more exxy) fabric," she says.
"I was planning on making just a boring old black linen version but once I whipped this baby up I knew it deserved to see the light of day. I have gotten so many comments on it, maybe because it stands out so much against the standard Melbourne blacks.