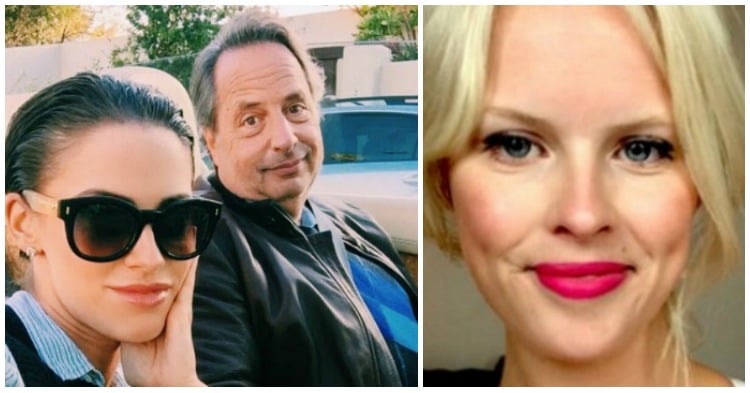 The Easter long weekend was a confusing one in the weird world of Hollywood.
Four days ago, 90210 star Jessica Lowndes uploaded this snap to her Instagram:
Around the world, the bombshell's extensive fan club clutched their chests and spluttered, "Wha? But, but, but…who?"
As with any dramatic Hollywood announcement, all eyes remained on Jessica's Instagram account, and sure enough, the clues kept coming. Just a short time after the first photo came a picture of her in the cream leather seat of a Bentley, with the caption, "His."
Still no clues to the lucky man's identity. Biting their lips and waiting for the grand reveal, the fans gave a collective gasp at the next image, which was a little….um, unexpected.
"Old cows like to eat young grass," it read, with the comment, "And I love me some old cows."
 The plot was thickening at such a rate that the Jessica Lowndes fan club was practically choking on it.
An older guy? An older guy with a Bentley? An older guy with a Bentley and a penchant for Thai proverbs? She kept up the teasing, posting a photo of his hand suggestively resting on her thigh. For God's sake, woman, WHO IS IT?
And while many sets of eyeballs stayed glued to her Instagram account waiting for more clues, the great reveal was actually happening on the Twitter account of the mystery guy.
And that mystery guy was none other than 58-year-old comedian Jon Lovitz.
No one saw it coming, and Twitter lit up in outrage.
And, in the midst of the social media chaos, Jessica dropped the biggest bombshell yet: they weren't just dating, they were ENGAGED.
The reactions were as to be expected. "This is a joke!" commented some, "Ew!" said others.
"Dear lord help her."
"I wonder if she's into his nasally tone or the money…"
"The man is kind of creepy looking.. ???? she needs a shrink ASAP!!!…"
For four days, these comments continued thick and fast – the people of the internet were repulsed. He was so old! She was so young! How could someone as unattractive as Jon Lovitz land a supermodel like Jessica Lowndes?
But after a while, Jessica and Jon had their fun, and admitted to everyone that it was actually just a big joke. A publicity stunt – in her words, an 'early April Fools'.
Jon was co-starring in Jessica's new music video, you see; and rather than just plugging the "Deja Vu" clip, they figured it would be far more entertaining to play a harmless viral joke.
But as everyone had a laugh and breathed a collective sigh of relief, I couldn't feel that there was a darker message at play.
The whole prank circled around a very clear concept: old, ugly men don't date young women. And if they do, it must have something to do with money – certainly not their personality, or genuine attraction. Impossible!
Jon Lovitz threw himself under the bus as the quintessential 'old guy', potbellied and double chinned, driving his hot young (faux) fiance around in his Bentley.
And, after the relationship was revealed to be a joke, he had a good old laugh along with everyone else. But what we're looking at here is a very dangerous message to be sending men – and women, for that matter –  about the 'deservedness' of love.
***
When 73-year-old Holland Taylor went public with her relationship with 41-year-old girlfriend Sarah Paulson, the reaction was overwhelmingly positive.
The 32 year age gap was treated as something progressive, a golden sign of the times that not only could the public welcome a lesbian couple – but they could welcome a lesbian couple with a significant age difference. They were showered with warmth and support.
(And so they should have been – it was bloody fantastic, and adorable, and they are totally in love.)
But, in the fallout of the Lovitz/Lowndes prank, I can't help but compare the two. Jessica and Jon also share a 31-year age difference, but instead of being progressive or exciting as it was with Holland and Sarah, it was 'disgusting' and 'gold-digging'. Why?
Jessica fuelled the fire with her comments and teasing over the last four days. On the photo of Jon's hand on her thigh, she added the caption – "His hands are wise and tell a thousand stories…#smitten #hatersgonnahate."
Honestly, how are all the other older men in the world who are dating younger women meant to feel when they realise she was just 'joking'? Embarrassed? Awkward? Creepy? Old?
What about the women, who, up until this point, found the view of their loved one's hand on their leg a beautiful, safe, and happy sight? Ashamed?
And – most importantly – what about the younger men in the world, who might not be physically attractive? The message to them is pretty clear, too: ugly men don't get to date beautiful women. If they do, it's a joke.
Watch the fake relationship come to life. Post continues after video…
And for all those out there rolling their eyes about the not-so-innocent intentions of young women dating older men – hold your judgement, because I've been there.
I dated an older man for a while. We knew each other for many years prior, moved cities together, lived together. We had a 20 year age difference, and I barely noticed.
I loved him for so many other wonderful attributes that were autonomous from his age: his creativity, his intelligence, his wildly exciting mind. To think that this relationship would have been mocked as 'gold-digging' or 'disgusting' is nothing short of outrageous.
A harmless joke, an early April Fools, shameless self promotion – call it what you like, but I think it's high time that those in Hollywood stop and remember that their social media is more than just a number of followers or likes on a picture.
It's a soap box that echoes far and wide, to men and women everywhere, waiting to know what their favourite star thinks is cool, approved, and 'right'.
And love – old, young, ugly, pretty – is never wrong.