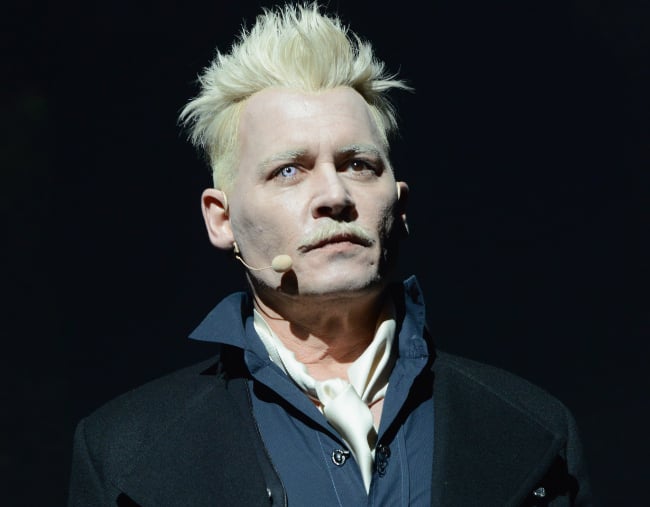 Johnny Depp's surprise appearance at a Comic-Con was met with cheers from fantasy fans – and stunned silence from others who deemed it "inappropriate".
Audience members questioned why the organisers had the Fantastic Beasts: The Crimes of Grindelwald appearing on the same stage that his ex-wife Amber Heard would appear on just minutes later.
Heard accused Depp of abuse and violence during their 15-month marriage when she filed for divorce in May 2016.
The actress was on a panel at the event to promote her upcoming film Aquaman, alongside co-stars Jason Momoa, Nicole Kidman and Patrick Wilson.
But before this, stars of Fantastic Beasts, Eddie Redmayne, Jude Law and Zoe Kravitz, walked on for their own panel discussion, minus Depp. Then the 55-year-old dramatically appeared on stage dressed as his character Gellert Grindelwald and gave a short but creepy monologue. Watch: 
"My brothers, my sisters my friends. The great gift of your applause is not for me but for yourselves. Therefore, applaud yourselves," he began.
Making very little sense, even in context as the movie's villain, he said that he didn't hate "muggles" – the Harry Potter universe word for non-magical humans – before proclaiming that those "who live for freedom, for truth, the moment has come to rise up and take our rightful place in the world".
Attendees were quick to share their shock and disgust at the appearance on social media.
WB brought Johnny Depp out for the Fantastic Beasts panel (as a surprise!!!) immediately proceeding their Aquaman panel, featuring Amber Heard. That makes me nauseous.

— Dana Schwartz (@DanaSchwartzzz) July 21, 2018
When the #SDCC2018 brings out your abuser at the same stage, let your co-stars to surround you with love #Aquaman #AmberHeard #JasonMomoa #NicoleKidman #IWantToBeInThaTSandwich ???? pic.twitter.com/tFKlvtTV7T

— STIRGUS SACCHETTI (@stirgussa) July 21, 2018
WOW. WB really put Amber Heard and Johnny Depp in the same hall. Unreal and irresponsible. https://t.co/IC3zDkqEzo

— Rron R2 is an Ang Lee Shill (@rron007) July 21, 2018
anyone gonna go after warner brothers for having johnny depp and amber heard share a stage at comic-con today or is that cool?

— josh lewis (@thejoshl) July 21, 2018
Depp's casting as the franchise's main villain was controversial from the moment it was revealed at the end of the first instalment, Fantastic Beasts And Where To Find Them. 
Author JK Rowling addressed this in a statement, saying that around the time of filming for his cameo news stories appeared that "deeply concerned me and everyone most closely involved in the franchise".
However, she and the film's director decided against recasting, citing the couple's requests for privacy and stated desire to "get on with their lives".