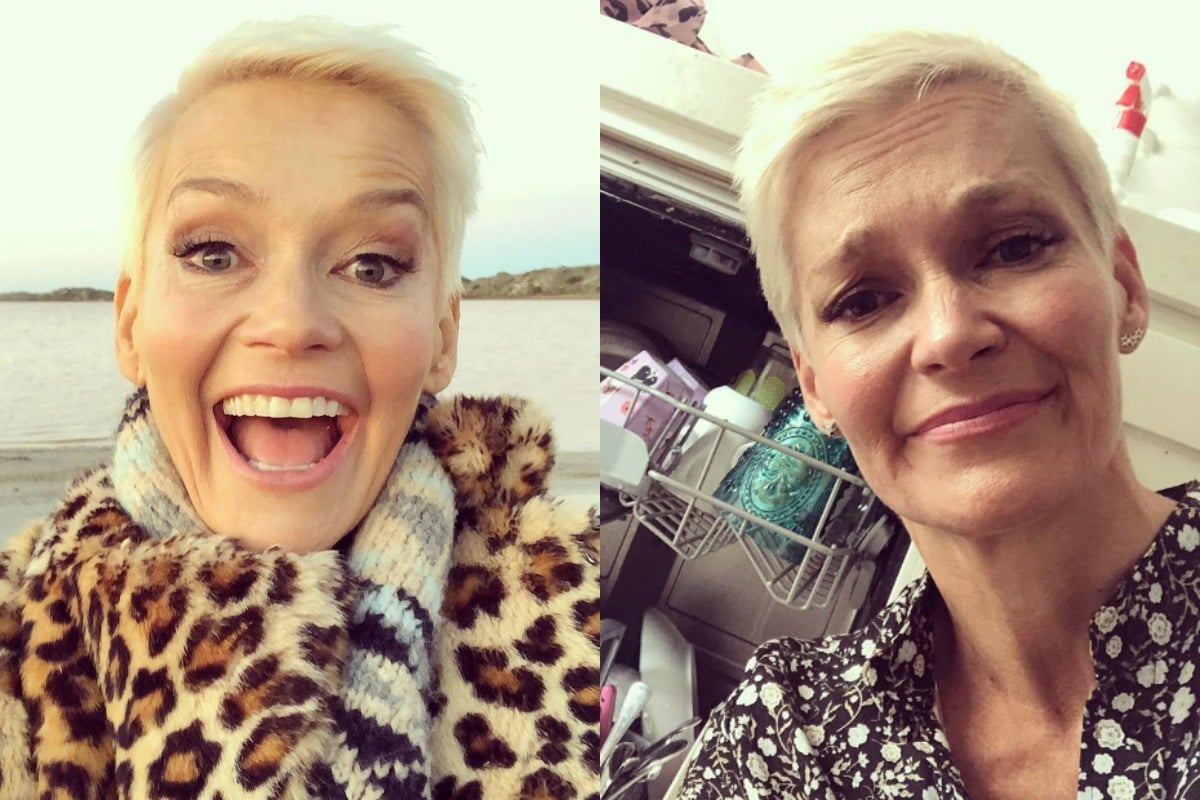 Jessica Rowe isn't afraid to call herself a "crap housewife".
In fact, being a crap housewife is a self-titled badge that the 49-year-old journalist and author openly wears with pride.
From juggling work with life at home with husband Peter Overton and their two children, Allegra and Giselle, life is certainly busy for the television presenter and speaker.
After leaving Studio 10 two years ago to spend more time with her kids, Rowe now works for herself as a freelancer.
Listen to Jessica Rowe's full interview with Mia Freedman on No Filter below.
It's a decision that has had a drastic change to her daily routine, meaning that ultimately no day is the same.
"It all really depends on what I'm working on," she told Mamamia.
"Normally I set my alarm for about 6.15am – especially now that the girls are back at school. I used to just do a lunch order but this year, I'm trying to make their lunches instead," she said.
"My day really depends on what work things I've got lined up. Twice a week, I do Pilates with a beautiful friend of mine. I might do some writing. I might go get some stuff for dinner. It really varies."
Since becoming a freelancer, Rowe's routine is incredibly different from what her routine was like on Studio 10.
"[While I was on Studio 10] I was up at the same time every morning, in the car, in the makeup chair at 6.30am, reading my subjects, prepping for my interviews, on-air for a couple hours and then finishing work at the same time every day," she recalled.
"There was a constant consistency whereas I'm my own boss now. I've never really been good at being told what to do. The inner rebel in me makes me push against it," she added.
"My routine is so different now. For this wonderful campaign I've just done for the Greatest Butcher on your Block, I was lucky enough to travel around Australia and meet some amazing people. For that month, I was travelling for three days a week. It's busy and so different to my daily routine.
"I also do quite a lot of mental health advocacy work so there are other days where I might be speaking at a breakfast or a lunch. Last year I did The Real Dirty Dancing so I got to travel overseas. It really depends what projects I'm working on."
From Zetland in Sydney to Mundaring in Western Australia, Jessica Rowe has been busy meeting 12 unique butchers from around Australia for Meat & Livestock Australia's Greatest Butcher on Your Block campaign. Post continues below.