Bec Arena wanted desperately to be a mum. When she realised her cystic fibrosis-affected body may not allow her, she turned to her long-time friend Jessica Brockie.
Jessica, who already had two children of her own with New Zealand soccer player Jeremy Brockie, agreed to be her surrogate and around April last year fell pregnant with Bec and her husband Gareth's child.
"It's no secret that CF has made our road to parenthood a difficult and tumultuous one, so to be expecting baby Arena in a little under six months still feels quite surreal," Bec wrote in a Facebook post announcing the pregnancy in July.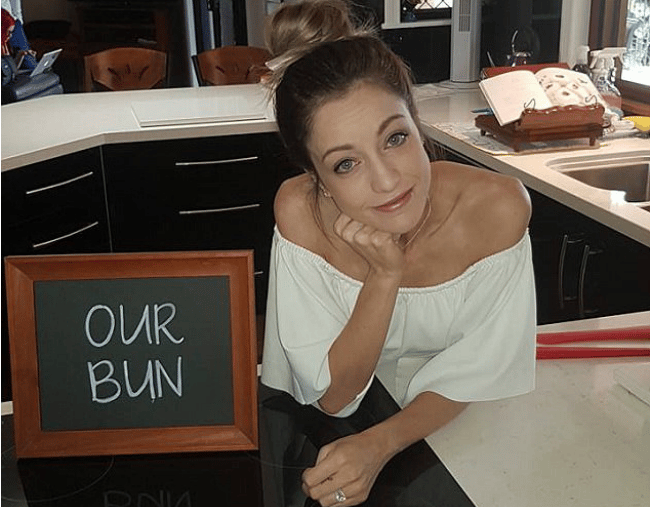 "We are so fortunate to have Jes and her family helping us along this road - who would have thought all those years ago in primary school that this is where we would be now!
"Gareth and I can't even find words to adequately describe how grateful we are to Jes, Jeremy and their kids for going on this journey with us."
But in September, the two families' joy turned to tragedy. Bec died of complications relating to her illness. She would never meet her baby.
Listen: TV Presenter Sally Obermeder speaks to Mia Freedman about her cancer diagnosis, finding a surrogate, and navigating infertility. (Post continues.)

This week Jessica, who now lives in South Africa, gave birth to the couple's son, Rixon James Arena.
"And just like that, Rixon James Arena has arrived in this world," she wrote in a tweet announcing the baby's arrival.
"What an amazing journey to be a part of. Memories that [Jeremy] and I will treasure forever."
The photo she shared is of Gareth with his son on his chest.
Gareth said the arrival of his son was twinged with sadness in an Instagram post of footage taken on their wedding day.
"I thought I would share a beautiful clip from our wedding day that shows a little of how much Bec actually wanted to become a mother," he wrote.
"This is the hardest part of being a father for me. I can deal with the sleepless nights and shitty nappies. The things I would do just to be able to see him in Becs arms."
A GoFundMe page was set up by someone close to the family in the wake of Bec's death.
"In her own words, Bec was a Nutella fiend, car karaoke queen, grammar nazi and cystic fibrosis sufferer.. but to those who knew and loved her she was so so so so much more," they shared.
The page explains Gareth had planned to continue working full-time while Bec became a stay-at-home mum. Her passing means he's become a single dad, and he "dreamed" to stay at home with his child for as long as possible before resuming work. The more than $17,000 raised so far will help Gareth.
CORRECTION: an earlier version of this story stated that Jeremy Brockie is a rugby player. He is a soccer player.