If we were only allowed to use two words to describe Jennifer Lawrence, we would have to go with "talented" and "unfiltered".
At 27 years old, Jennifer Lawrence has already won an Oscar, three Golden Globes and two SAG Awards. And she's been unofficially crowned the Queen of Relatable Celebs.
(To put those achievements in perspective, at the same age I had approximately one participation ribbon from a grade three swimming competition.)
She's also shared her fair share of… inappropriate life stories with her fans. Like the time she told the world she threw up at a party in front of Miley Cyrus.
Or the time she tried to hide a bunch of butt plugs from a hotel maid. (We've all been there…right? RIGHT?!)
Today, Jennifer Lawrence has yet again given us more insight into her sex life, or, as she wants us to be aware, the lack thereof.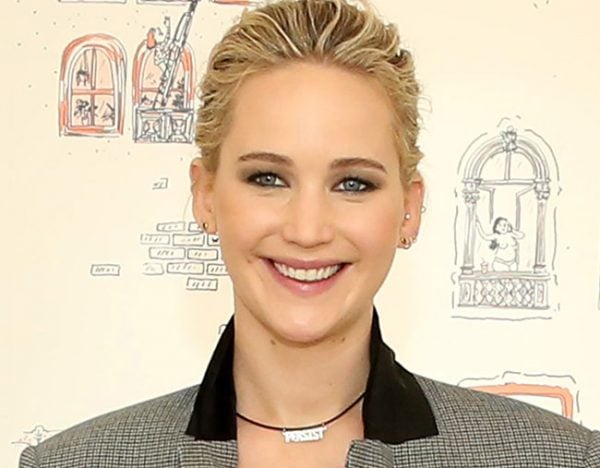 Speaking to The Sun, the Red Sparrow star admitted that she doesn't actually do ~~the sex~~ as often as her comments might have us believe.
"I am all bark and no bite," she told the publication.
"I always talk like I want dick, but the truth is when I look back at my sexual past it was always with boyfriends."
LISTEN: Why do we care so much about what Jennifer Lawrence wore? The Mamamia Out Loud team discuss. Post continues after audio.
She also said that even though she talks "like I like it", she doesn't "really do it".
But it's not because she finds it hard to find someone to do the deed. In fact, she puts her picky ways down to being a "germaphobe".
"I have made it this far without an STI. Dick is dangerous," she said, which is a phrase that we would really, really like printed on a bumper sticker ASAP.
Basically, what Jennifer Lawrence is saying is THIS:
She admitted she makes each and every boyfriend - add we assume that includes her famous exes Chris Martin, Darren Aronofsky and Nicholas Hoult - visit a doctor to ensure they have no sexually transmitted diseases before they are allowed near her or her bedroom.
"If I was at the point where I could get an STI, doctors have already been involved. That is how much of a germaphobe I am," she said.
Adding she was not currently in a relationship, the actress said she wanted to make it clear "that I have not had sex in a very long time", which sounds like a conversation I had over a few wines with a group of my girlfriends just two nights ago.
Oh, Jennifer. Please never stop over-sharing about your life... and props for promoting safe sex in the process.
LISTEN to the latest episode of the Mamamia Out Loud podcast:
Shout out to all dads! Here at Mamamia, we are always looking for ways to make Mamamia even better. Dads, we need you to help us do that by filling out this quick 15-minute survey for us. Click the button below for your say.