If you've been watching The Handmaid's Tale, you might have noticed some familiar faces.
There's Gilmore Girls' Alexis Bledel playing the baddass OfGlen and Orange Is The New Black's Samira Wiley as June's college friend Moira.
But if you're like us, there are definitely a few characters that are a bit harder to place.
Take Janine.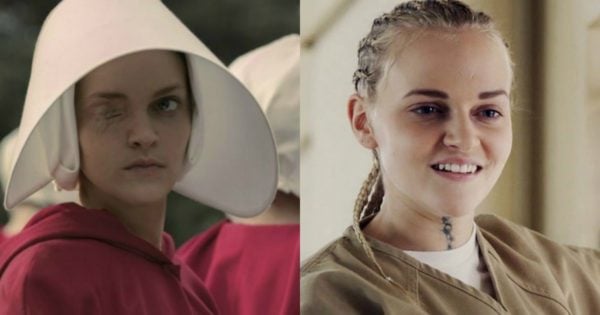 Her face wasn't entirely foreign to us... and we've finally worked out where we've seen her before - in another binge-worthy series Orange Is The New Black, way back in 2013.
Actress Madeline Brewer played Tricia Miller, who didn't have much better luck in OITNB than she does in The Handmaid's Tale.
Listen: The Binge hosts Laura Brodnik and Clare Stephens discuss the biggest moments from the first episode of The Handmaid's Tale. Post continues after audio.

One of the youngest inmates and part of Red's "family", Tricia was a drug addict and kleptomaniac, who gets drugs from the prison guard Mendez in exchange for sexual favours. After she gets clean, Mendez blackmails her into selling drugs for him again.
After she takes some from his stash, concerned his involvement will be revealed, he hides her in an empty broom cupboard. When he returns, he finds she is dead after taking the whole bag. Mendez makes the situation look like suicide and the truth of her death is never discovered by the administration.
Serena Joy.
Yep, Serena Joy is played by Aussie actress Yvonne Strahovski, better known as CIA Agent Sarah Walker from Chuck and Hannah McKay in Dexter.