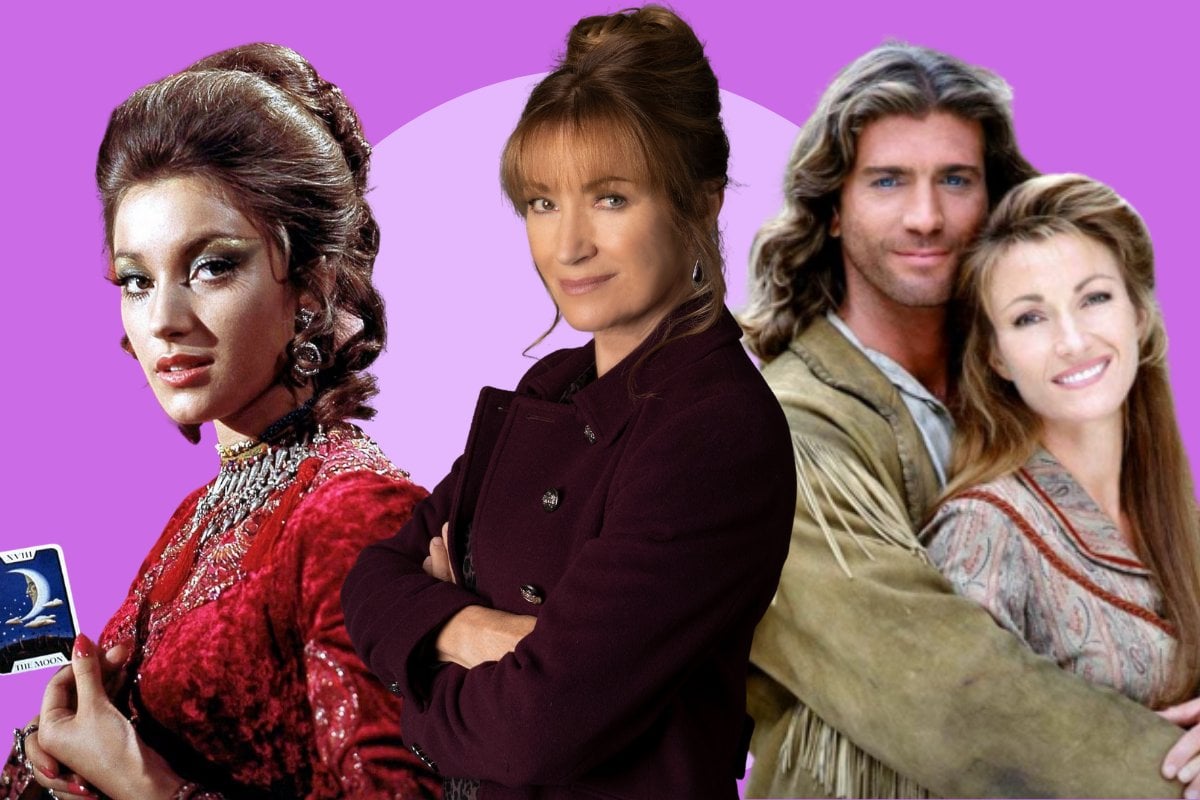 You'd think that after playing 152 characters over 53 years, actor Jane Seymour might be considering leaving it all behind and revelling in the rewards of her illustrious career on a beach somewhere with a margarita or two.
You'd think that, but you'd be wrong.
In fact, during these past few years - when many film and television productions were put on hold due to the pandemic - Seymour did not stop working. She was busy filming TV series The Kominsky Method and, much to the delight of her Australian fans, she came to stay in the country while filming Ruby's Choice, an Australian production where she played a grandmother with dementia. Recently, she was in Ireland shooting British detective drama series Harry Wild.
For the 71-year-old, as long as there are roles for her, she's not going anywhere.
"I've got two more movies lined up ready to go right now. And I've just been on a television series that they're talking about maybe bringing back, a comedy called Be Positive. So I have never really had as much work as I've got right now. I mean, that's crazy," Seymour tells Mamamia over Zoom from her home in Malibu, California.
Even though we're not in the same room, the actor's energy is palpable through the computer screen. Throughout the time I have with her, she's warm, articulate, down to earth, and, perhaps not surprisingly given her comedic roles, really funny.
"I love doing [comedy]. I think even for example, a film like Ruby's Choice when it was playing in the theatre, a lot of people go, 'Oh my god, dementia… it's going to be so depressing.' They were laughing out loud and then crying out loud," she says. "So I think sometimes in life, you know, you laugh at things that are too difficult to have to deal with. You just have to. Sometimes you have to see the comical side of things even when they're devastating."
Seymour has had her fair share of devastation. As a young girl, she had dreams of being a dancer but an injury forced her to abandon that dream. While filming her 1988 telemovie Onassis, she had an out-of-body experience after an antibiotic injection caused her to go into anaphylactic shock and she was declared clinically dead. Her third husband [Seymour has been married four times], father of her two children and then business manager, not only had an affair but bankrupted her as well.
That's when Dr. Quinn, Medicine Woman came along.
"I was given that role when I was at the lowest end of my life," Seymour reveals. "I'd been married, my husband had lost all my money, I was beyond bankrupt. I had to work, I was losing my home, I was losing everything. And my agent said, 'Well, you know, you've got this to read.' He gave it to me at seven o'clock at night. I read it at 10. He said, 'By 10 tomorrow morning, you have to say yes or no and sign for five years.' But he guaranteed it would never be a series because there's a woman in the lead, it was a dusty western, etc. And of course, we proved them wrong."