If you have been gorging on every Netflix true crime documentary available, you'll be thrilled to know there are now a few more puzzles for you to solve.
Netflix have launched a new podcast series called You Can't Make This Up, which digs into the real stories behind their Netflix Original TV shows. In an exciting development, one of the most intriguing new entries in their podcast catalog is a deep-dive into everyone's favourite new true crime obsession, The Staircase. 
The Staircase has proven to be a bingeable hit since it dropped onto Australian Netflix a few weeks ago, prompting hundreds of viewers to descend into research mode to learn more about the baffling, decades-old case.
The Staircase follows the compelling story of Michael Peterson, a crime novelist who was accused of killing his wife Kathleen after she was mysteriously found dead at the foot of a staircase in their home. It also covers the judicial battle that followed Kathleen's death, a process that spanned more than 16 years and involves multiple twists and turns.
What's incredibly interesting about The Staircase is that while it may appear like it's just riding on the coattails of hit documentary shows such as Making A Murderer, in truth it actually helped to launch the television true crime genre and help it rise in popularity to what it is today.
The first eight episodes of the series were released in 2004 and then another two entries debuted in 2013, all airing on the BBC. The added bonus to this dark tale is that we have now been gifted three new installments of the saga, which were all shot last year, and have now been added to the original series.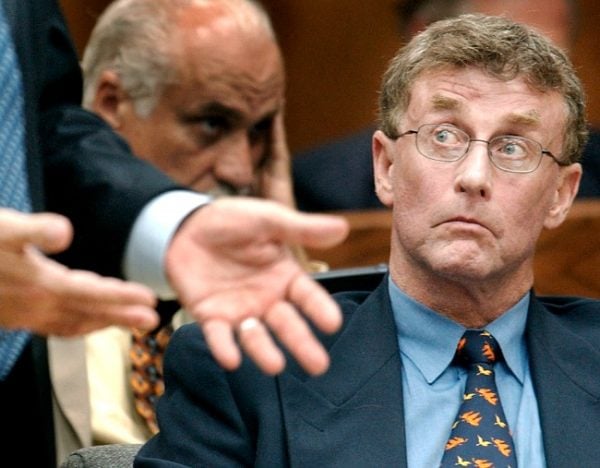 In this particular episode of the You Can't Make This Up podcast, the Netflix powers-that-be discuss how The Staircase writer and director Jean-Xavier de Lestrade and his team of filmmakers got access to the people involved in the case, what parts of the documentary ended up on the cutting room floor and even the impact that a Netflix show can have on the real lives of its subjects while filming takes place.
If you watched The Staircase in one big hit, and are now left looking for more answers, this is where you will find them.
And if you're looking for more true crime documentaries on Netflix to sink your teeth into, we would suggest Wild Wild Country, The Keepers, Evil Genius and Making a Murderer. You may never sleep again, but at least you'll be entertained.
All 13 episodes of The Staircase are available to watch now on Netflix. The Staircase episode of  You Can't Make This Up  is available on iTunes.