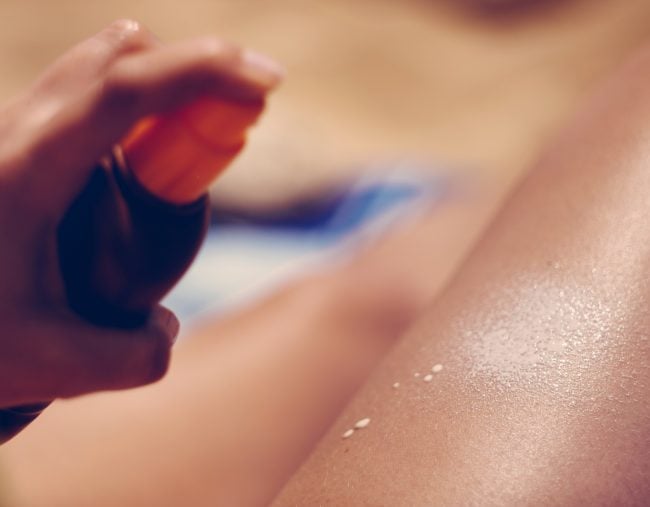 Growing up in the generation of Slip, Slop, Slappers, sunscreen was as much a part of summer as Zooper Doopers and Slip N' Slide related injuries.
We never questioned the smothering our mum's gave us, and even embraced fluoro zinc on occasion – especially if it happened to coincide with our sports day colours.
But, despite incidences of skin cancer rising at a steady rate, in recent years there have been a few (very vocal) people who are distinctly anti-sunscreen.
You might remember the quotes celebrity chef (and apparent skin expert) Pete Evans gave a couple years back where he claimed that he rarely used sunscreen because they were "full of poisonous chemicals".
Well, it's not just Pete on the bandwagon – riding shotgun with him are wellness experts, regular punters, and even an integrative doctor in the US, Dr. Frank Lipman, who has written a bunch pretty controversial articles on the topic.
So what's the deal? Is this really something to worry about? We spoke to a real life skin expert, Cosmetic Dermatologist Dr Natasha Cook to get some answers.
The Chemical Factor
Before we get into chemical talk, here's a little backgrounder on sunscreen.
There are two types on sunblock the market: chemical and physical, and they work in different ways.
Chemical sunscreens use, well, chemicals, to absorb the sun's rays and then convert them into non-harmful energy, pushing them back out into the environment so that they're not absorbed into your skin.
Physical blocks use the naturally occurring minerals titanium dioxide and zinc oxide to essentially create a mask on the skin, reflecting the rays so they can't penetrate the skin.
The sunscreens copping heat from the anti-block bandits are the chemical filters. Though, as Dr. Cook explains these "chemicals" have been on the market for over 40 years, and have all passed the notoriously stringent TGA (Therapeutic Goods Association) testing before they get to market.