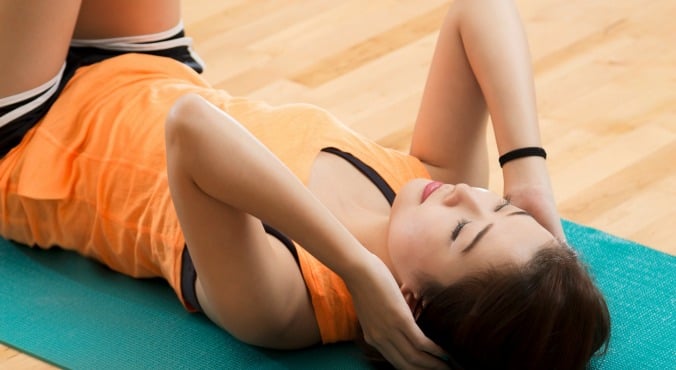 Image: iStock.
When it comes to exercise, the most important thing is to get your body moving — whether that be through walking, kayaking, playing hockey, hitting the gym, whatever you fancy. Any kind of physical activity is better for you than doing nothing at all.
That said, nobody wants to go to the effort of sweating through a workout only to learn their chosen exercise isn't really doing what it's supposed to. You mightn't realise this, but there are some popular training techniques that aren't as effective as they're cracked up to be — so we asked experts to name and shame them.
1. Crunches/sit ups
Convinced a round of crunches will give you the stomach of Britney Spears circa 1998? There's a good chance you're only going to wind up disappointed.
"[People] think it will help burn fat from your abs. Instead you are adding more muscle bulk and shortening your posture," explains Greg Stark, Better Being's owner and trainer and lululemon Ambassador.
Dylan Rivier, personal trainer and owner of Built By Dylan Training, adds that while situps can engage your six pack muscles, most people don't do them correctly. "The result is a lot of Hip Flexor activation and excessive spinal flexion. If you are one of those people who then hook your toes underneath something to give you a hand, that's arguably even worse," he says.
Instead, Rivier recommends leg raises; hanging, supported or lying knee tucks; "statis holds" (like planking) or big compound movements like squatting to work your abs and core more effectively. If your aim is to tone your stomach, Stark says focusing on your diet and keeping your heart rate up as you train is the wisest way to go about it.
2. Burpees
Yes, burpees — the gruelling three-step move beloved by many a fitness fanatic. Although the elevated heart rate that results from doing burpees will benefit your fitness, Stark says they're more likely to injure you than other exercises (along with being "not that fun").
"Exercises that you go from a low to high position like a squat with overhead press is far safer, more effective and definitely more enjoyable," he says. Roger that.
Watch: Former Bachelor Sam Wood demonstrates an effective 5-step workout routine you can do anywhere. (Post continues after video.)
3. Extended treadmill time
Treadmills are to gyms what Kardashians are to popular culture: ubiquitous. But despite what you've been told, slogging it out on the treadmill for extended periods isn't a golden ticket to Fit Town.
"The days of an hour on the treadmill are over, unless you are training for marathons," says Tom Sproats, Scenic Cycle founder and lululemon Ambassador.