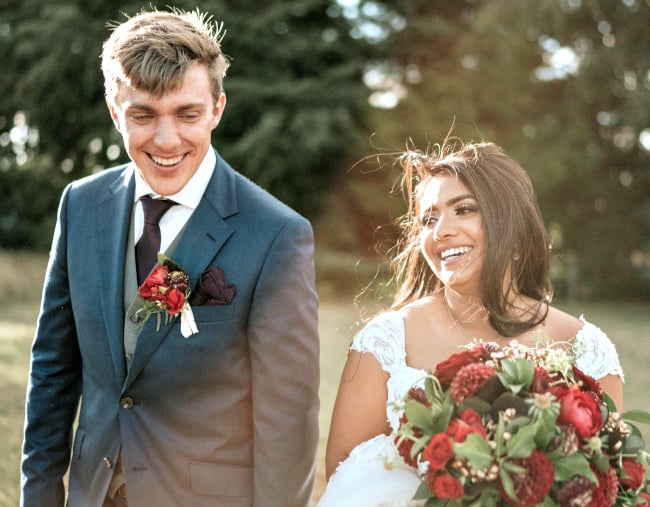 In honour of Mamamia's wedding planning podcast Hitched, we wanted to celebrate (and perve on) YOUR weddings.
Each week, we'll deep dive into one Aussie couple's wedding day to bring you all the details about the important stuff. From the practical things like the dress and vendors to the words of wisdom they wish they'd heard before their big day, below you'll find everything you want to know. 
Oh, there are lots of beautiful photos too.
This week's Wedding of the Week is Ihita and Tim's not one, but two unique weddings. Enjoy! Don't forget to Subscribe to Hitched here.
The basics.
Who: Ihita, 24, and Tim, 26, from NSW.
Wedding date: Hindu wedding, January 21, 208, and Western wedding, January 28, 2018.
Number of guests: Approx. 600 in total.
Total cost: Aprrox. 75,000.
Photography: James Day, James Day Photography.
Ihita and Tim's love story.
"Tim and I met at a mutual friend's birthday party in our first year of university. We 'drunk-flirted' and cuddled a few times, but had never really talked or hung out until I had a Halloween party a year or so later."
"I think my Snooki outfit must have stolen his heart because a few days later, Tim asked me out on a very romantic date to watch Paranormal Activity 4 with him and his friends. It must've been a slow day, because I said yes even though I hate horror movies. The rest is history…
"Marriage, to us, is just an opportunity to grow and learn and be with your best friend, proudly and openly."
The wedding dresses.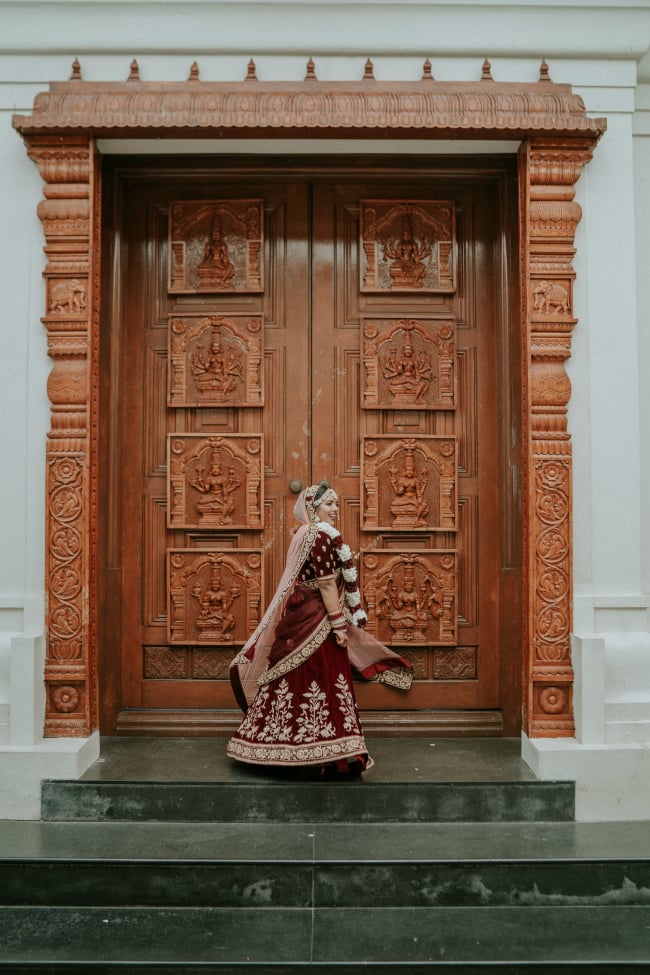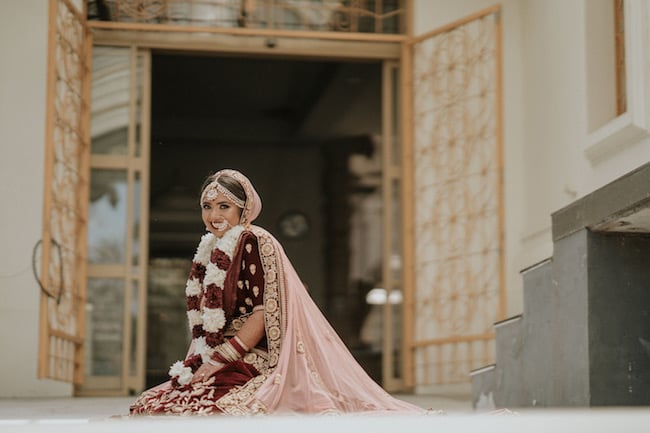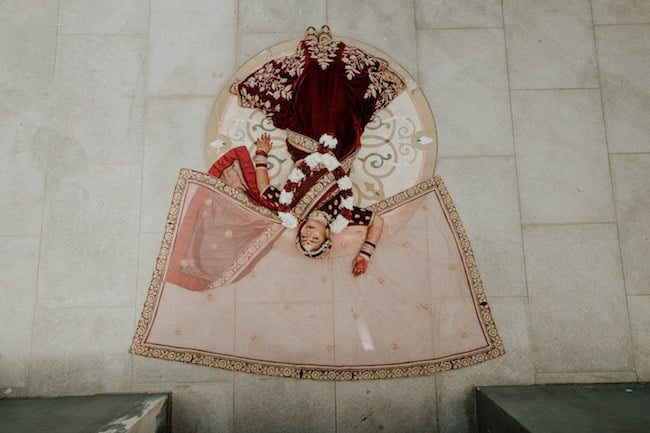 Hindu wedding dress: Custom lehenga by Puneet's Wardrobe, alternations by Altaf Tailor.
Western wedding dress: The Ashley Dress, Blanche Bridal.
"For my Hindu wedding, I wanted an all-out glam "Sabyasachi" inspired look. Sabyasachi is all the rage in Bollywood at the moment and growing up in a Bengali family, that was the look I've always associated with brides on their special day. The lehenga (full length skirt) I wore was custom made and then tailored to exactly how I wanted it. My family were very involved in choosing all of my Bengali outfits."
"I had some reservations about finding the right dress [for the western wedding] though as I was the first person in my family to ever wear a white dress on their wedding day. I have quite a conservative family as well, so I was nervous about finding something that made me feel confident, but was also modest enough to wear in front of everyone.
"I chose to only take my three best girlfriends on my dress shopping adventure. The plan was to spend a few weekends looking at different places... only, I'm an extremely efficient shopper and about two dress and 30 minutes into our shopping trip, I saw MY dress in the window of Blanche Bridal. It was completely different to what I had pictured myself in, but as soon as I saw it, I had the "moment" you always see on those cheesy bridal shows.
"It was everything I hoped for, even though it looked nothing like any of the dresses on my Pinterest board. I definitely had "the moment" the first time I put it on, and continued to have that moment every single time after that. I bought it on the spot, and did not once regret my spontaneous decision. It was the comfiest, laciest, most beautiful dress I'd seen, and it made me feel amazing on the day."
Ihita's bridal hair, makeup and final touches.
Wedding hair and makeup (both weddings): Nikki Arora.
Western wedding shoes: Billini.
Western wedding veil: JulietCharms, Etsy.
Western wedding jewellery: Cecile's.
Hindu wedding jewellery: Sokora Jewels.
"I was really lucky I had two days to switch up my look and really get the best of both worlds. On both of my wedding days, I felt the most confident I ever have in my life."
"At the Hindu wedding, even though it didn't really feel like it was me on that stage, I felt beautiful and glamorous. I'm not generally such a confident person, so I would credit that feeling to the amazing team of people surrounding me that day. I also spent about seven months looking for the jewellery I wore (all custom), and Nikki nailed the hair and makeup, so I really felt a million bucks that day, even in the scorching 42 degree heat.
"In my regular life, however, I'm super laid back and hardly ever wear my hair up or any makeup. For our western wedding, I wanted to go with a look that reflected how I am in everyday life. I went for a softer look, focusing on my eye makeup, and a dress that I could move more freely in. I spent that whole day running around in long grass, laughing with my bridesmaids, and spilling wine on myself, and honestly, that's exactly what I was going for."
The bridal party.
Hindu wedding bridesmaid outfit details: Utsav Fashion.
Western wedding bridesmaid outfit details: Fresh Soul dresses, Colette Hayman jewellery, Billini shoes, hair and makeup by Michelle Cato.
Groom's outfit details: Whole outfit, Peter Jackson.
Mother of the Bride hair and makeup (both weddings): Ashima Sarkar, Sundara Beauty Salon.
"I have a very small group of friends, so choosing my bridal party wasn't too hard. In 2015, I went to Europe and met a group of girls I knew I'd be friends with forever, so they were a pretty easy pick for bridesmaids. My cousin Mourbi is 84 days younger than me and we've literally grown up together, so she was a pretty easy pick for me as well."
"The only trouble I had picking my bridal party was that my best friend Danilo is a guy, so I wasn't sure if that would be acceptable in a bridal party for a pretty conservative audience. But at the end of the day, there was no one that could take his place so everyone just had to deal with it, and he was my Dude of Honour.
"During my whole wedding planning/Pinterest-ing phase, I managed to develop a crazy obsession for Red Velvet and incorporated it into pretty much every outfit in my wedding. I think it was pretty contagious, because the girls immediately loved the strappy red velvet dresses on one of our many shopping trips, and that was pretty much it for the western bridesmaids dresses.
"The Indian dresses were more of a challenge. We all brainstormed ideas in our year-long "Bride Tribe" Facebook chat of what we wanted in the bridesmaids dresses, taking into consideration that the weather would be really hot, and we finally managed to come up with some very lightweight but traditional "lehengas" for the girls, bought the fabric, and then had them custom stitched to size.
"In a Bengali wedding, the wedding itself is a family affair… it isn't just the bride and groom's day, so I couldn't name each person that played a special role for that part of the wedding. However, at the western ceremony, Tim's sister Stephanie spent the whole morning hand-painting our signs. His sister Melissa read a bible verse as part of our ceremony, and his mum baked a spectacular three-tiered traditional fruit cake. At the reception, some of my high school friends put together a beautiful Indian dance performance, my flower girl/baby cousin performed a wonderful rendition of Alicia Keys' 'Girl on Fire', and our whole bridal party performed a Bollywood mash up dance item that was really one of our favourite parts of the whole night."
The ceremonies and reception.
Hindu ceremony venue: Sri Venkateswara Temple, Helensburgh.
Western wedding ceremony venue: Bendooley Estate, NSW.
Reception venue: Bendooley Estate.
Celebrant: Richard James from St Thomas Anglican Church.
Flowers: Decorations by Jelena.
Decor: Decorations by Jelena.
Stationery: Betty Lu Paperie (printing and invitations) and Lisa Wilksinson (custom portraits).
Catering: Bendooley Estate.
Wedding cake: Tim's mum and sister.
Car: Sydney Eleanor Hire.
Entertainment: DJ AJ.
"We had two ceremonies due to our very different family backgrounds. Our Hindu ceremony was held at Sri Venkateswara Temple in Helensburgh, and our Anglican ceremony at Bendooley Estate, but a minister from St Thomas' Anglican Church in Sydney came down to officiate the ceremony."
"We chose Helensburgh due to the sheer size of the venue, and my father had been at a wedding there around 10 years ago and decided ever since then that would be where he wanted his daughter to get married. As for Bendooley, Tim and I had always wanted a homely feel at our wedding, we'd envisioned a farm or a barn, something warm and sunny and inviting. Bendooley was the first of a list of venues we intended to look at, but the spectacular scenery and the incredible Mark Sneddon convinced us almost instantly that Bendooley was it.
"Our reception at Bendooley Estate was every bit as spectacular as we had hoped. We are both big foodies, so that was something we had both wanted to really provide at our wedding, and boy did they deliver! I've had so many guests from our wedding tell us that we had the best wedding food they'd ever had. Their staff were also extremely supportive from start to finish, and we couldn't be more grateful. Bendooley is probably the only venue I've seen that can bring that rustic farmhouse feel that we had always dreamt about, while also catering for our enormous guest list of 300 people.
"I could not recommend the girls from Decorations by Jelena more highly. They are a family-run business, and were so co-operative from start to finish. I hit a low point, emotionally, when I was trying to budget for all of the different parts of the wedding while also working full-time, and Katerina from DBJ really took the time to figure out what was important to us, and presented us with a solution that fit our budget, rather than just itemising my Pinterest photos. I really had no idea how much décor for 300 people could cost, and out of a page full of decorators, they were the only ones that agreed to help me within my budget."
The moments that made Ihita's and Tim's wedding days special.
"On January 19, before all the other pre-wedding events began, Tim and I snuck off to the registry office with two of our closest friends as witnesses and said "I do" officially, away from all the family drama. It was by far the best part of the whole wedding experience."
"This was the part we were both most looking forward to, as it was really the only part of the whole wedding we felt we really had control over. It allowed us to really appreciate each other and remember why we were doing all of this in the first place.
"Another very memorable part of the wedding was Tim's mum's reaction when she heard the music we had picked for the ceremony. Hymns were very important to her, but we decided against having everyone sing them as many of our guests were not familiar with them. But Tim tells me she was very emotional and happy when she heard the songs she had suggested playing before the ceremony.
"Both of my parents walked me down the aisle, although interestingly, my father didn't want to until the night before the Anglican ceremony as he didn't feel that the ceremony aligned with his Hindu faith. So it was a very special surprise when he showed up before our ceremony to walk me down the aisle.
"Tim's sister also surprised us at our reception with a painting of us from just the week before. James hadn't even released the photos yet, but Stephanie managed to somehow secretly get a copy from him and paint it in the six days between the ceremonies. The painting is incredible and hangs in our living room now.
"Our first dance was to Ed Sheeran's 'Perfect'. We chose it the day that album came out, it seemed to be everything that we were in a song. Except, then he released it as a single about a month before our wedding and pretty much everyone (including us) was sick of the song by the time of the wedding!"
Would Ihita and Tim change anything about their wedding days?
"In hindsight, the things that we would change were not in our hands to begin with. There were a few details that went awry, but we barely noticed them on the day because we were surrounded by the most important people in our lives, and at the time, that was all that mattered."
"The wedding planning process was incredibly stressful due to both of us starting new jobs at the beginning of the process, and also having almost 600 people to cater for and two very different cultural backgrounds to try to balance and not offend. We were both the first children in our families to get married, and also the first to have an intercultural wedding, so there were a lot of expectations from both sides, but no experience. Trying to keep both sides of the family was definitely the most challenging part of the whole experience, but in the end I think we found a great balance and also something that expressed our vision and our love.
"We absolutely would not spend as much money as we did if we had the chance to do it over. As amazing a time as we had, I would never advise having a wedding as large as ours, and if you have to, like we did, then I would definitely consider saving a lot more than we did before going through with it. In hindsight, we wouldn't have told anyone when we got engaged and just eloped, but alas, we didn't know what we were getting ourselves into… being in our early twenties and all.
"Our advice is to really find vendors that you feel comfortable around. Our vendors really felt like part of the family and helped so much to calm our nerves, while also producing the most impeccable work. We really took the time to find people whose work we were obsessed with, so when we met them, we were really star-struck. But these are the people that get you through the day and help you remember it in a positive light, so shop around, and don't settle for anyone that makes you uncomfortable or doesn't share your excitement."
All images supplied by the couple and James Day Photography.
Need help planning your wedding a.k.a the massive party? Get the latest episode of Hitched in your ears below.
Love weddings or getting married and need to ask all the questions about venues, flowers, photographers, wedding dresses, EVERYTHING? Come join Mamamia's wedding planning podcast Facebook group Hitched.