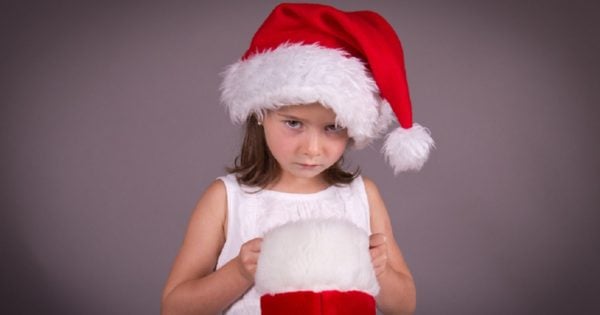 I often wonder if my spending habits are 'normal', particularly at Christmas time when I seem to spend more in two weeks than I do all year. So I Googled it, and really wish I hadn't.
The average Australian plans to spend $1,079 at Christmas time according to ASIC. My tentative budget is three times that. I do have a large family consisting of nine young children spread out among myself and my three siblings.
We long ago gave up buying gifts for each other, choosing to focus our spending on the kids only.
Then there's extended family to shop for, and a tree and an obscene amount of food.
Each and every year I sit down and make carefully considered Christmas budget factoring in each and every person and each and every meal. Each and every year I end up spending more than I'd planned.
How to save money at Christmas time. (Post continues after video.)
Now I know I spend way more than the average Australian which doesn't surprise me in the least. Feeling horrified after finishing my Christmas shopping has become normal to me. I try and push that feeling aside and instead focus on the faces of my loved ones as they open their Christmas gifts.
After Christmas when I begin what I lovingly refer to as my 'post-Christmas budget repair effort' and I account for each and every dollar that left my bank account I stop and wonder how on earth I'd be able to afford Christmas if I earned less than what I was earning now.
Or lost my job.
Or if one of my siblings has yet another child whom I love more than life itself and can't help but spoil rotten.
Every year as Christmas approaches I prepare with the best of intentions, carefully constructing a considered budget with the aim of spending a reasonable amount of money.
Those years when I do reluctantly stick to it I end up having a last-minute freak out. Are the gifts I've bought good enough? Will all the kids in the family love their presents enough? Do I have enough food