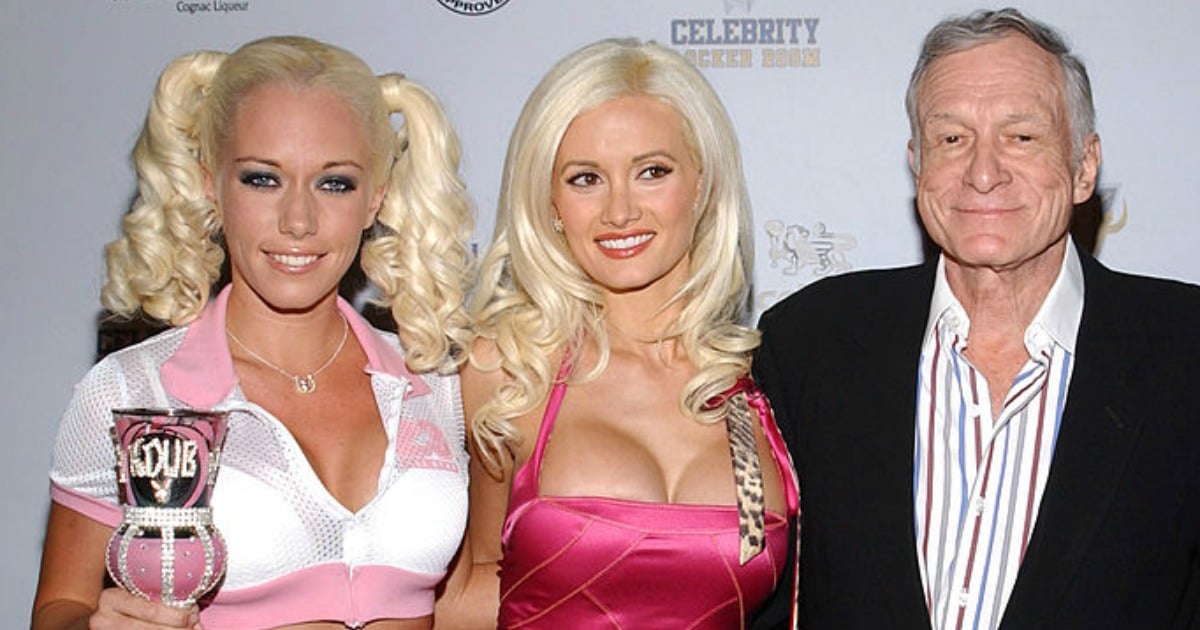 Woah, woah, WOAH.
Kendra Wilkinson and Holly Madison – AKA Hugh Hefner's ex-girlfriends and former stars of Playboy's reality show The Girls Next Door – have been feuding. Twitter feuding. And it's becoming nastier than one of Kanye West's diatribes.
Let us set the scene …
It started with an interview published in People on Wednesday, in which Holly discussed her relationships with former playmates and her new life and upcoming memoir etc etc etc. But there was a particularly juicy revelation: While the 36-year-old's relationship with Bridget Marquardt is peachy and perfect, her friendship with Wilkinson is not. It is over. Done. Finished. THE END.
"I wish her the best, but I'm done with that portion of my life," she said ever-so-carefully. "I've moved on. I'm happier now." (Very diplomatic.)
"A friendship with her was something I tried to work out off camera years ago," she said. "But I don't want to let myself and my friendship with someone be jerked around based on what's convenient for someone's reality show. She can bad mouth me or put words in my mouth, but I'm not going to fall for that."
Pretty pointed, right?
Kendra (now the star in a TV show about her life, Kendra On Top) didn't take too kindly to those comments. She didn't like them one little bit, and was keen to let her Twitter followers know.
"Now Holly is on cover of People mag sayin she lived in fear at the mansion," the mum-of-two tweeted. "She wasn't in fear with that d–k in her ass for a paycheck."
Yikes.  
Unfortunately, the 30-year-old didn't stop there. Shortly after, another awful tweet followed.
"That bitch is in fear now knowing so many of us saw her doing some nasty s–t. She's embarrassed and in shame. She was the clean up girl."
And then, to everyone's collective horror, yet another.
"Hollys(sic) job was to get Hef hard again and clean him up with her mouth."
The tweets were removed a couple of hours later, and replaced with the kind of apology that really means 'I'm gonna say sorry because everyone expects me to say sorry but I'm not actually even sorry.'
"I know my recent posts were a little over the top and I apologize for that. Sticking up for me n my beliefs is hard for me at times. Sorry."
Friendship breakups, broken collarbones and heartbreak. Watch Mamamia staff reveal the most painful things they've ever felt. (Post continues after video…)
We doubt there will be any retaliation coming from Holly's corner, considering she told E! News earlier this week: "I've dealt with my demons and I've come out ahead. I can hold my head high and work hard to be the classy and kind person I aspire to be."
"I want no part of a one-sided argument or feud where one woman lives to demoralize and degrade another woman. For those with unresolved issues, therapy works. You should try it."
And just like that, Holly wins.