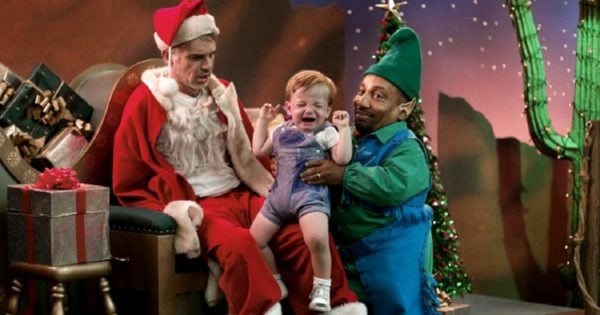 My children don't know it yet but this is their last year with Santa. Next year I plan to shatter their little worlds. I'm not only planning to kill Santa but I'm going to get rid of the Easter Bunny and the Tooth Fairy as well, in one fell swoop.
Philip, 12, already knows. He demanded to know the truth three Christmas ago after his friends started talking about it and his subsequent Google searches further embedded the seed of doubt that had formed. After weeks of fobbing him off, hiding from him and changing the subject, he demanded to know.
"Mum, tell me the truth!"
So I told him and he couldn't believe it. First came shock, then anger, then he asked me a million questions, then he came to accept it and now he helps me execute it all. He and I are a great little team. He is the elf to my Santa, rabbit to my Easter Bunny, the Tinkerbell to my Tooth Fairy.
21 kids who are scared of Santa. Article continues after this video. 
But enough's enough. I just can't do it anymore.
Not only do I find the whole Santa thing financially burdensome – "Don't worry Mum, I'll ask Santa for an X-Box because it's too expensive" – my children have started becoming suspicious.
Giovanni, eight, and Caterina, seven, have been circling around asking the question, "Is Santa real?", since July and I could feel myself getting weaker.
Since making the decision to lift the curtain and reveal Oz, I've felt much better. I'm anxious too. How will they react to the epic subterfuge? I'm also a little sad.
My babies aren't babies anymore. Now I need to carefully plan how I do it.
My first idea was to break the news to them both at once at our favourite family restaurant, Hog's Breath. But that would ruin Hog's Breath for them which has always been a place of joy and comfort. Then I thought of telling them while we play at the park so they are a bit distracted and less likely to yell in my face.
"WHAT DO YOU MEAN SANTA ISN'T REAL? YOU MEAN YOU'VE BEEN LYING TO US THIS ENTIRE TIME?!?"