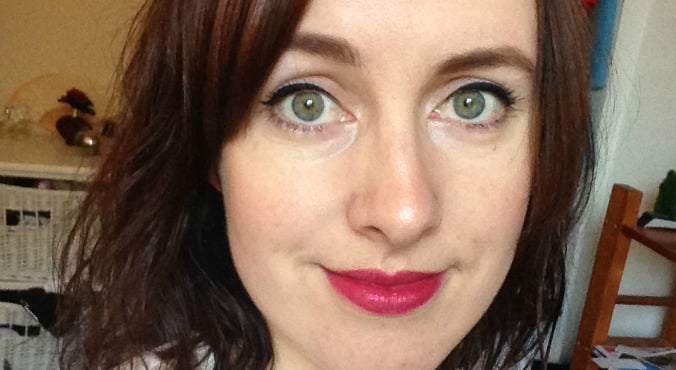 Image: Supplied.
Concealer is a pretty nifty product to have in one's makeup arsenal, especially on those days when sleep deprivation has turned you into a zombie.
Shadows enjoy taking up residence under my eyes when I'm tired, so being able to tone down the darkness with a bit of concealer has been very much appreciated. However, one major downside has emerged: my concealer has a crack habit.
RELATED: The under-eye concealer trick that will help you fake awake.
More specifically, this wonder product has a tendency to fall into the creases under my eyes. Exhibit A:
Facial expressions make our muscles and skin move, especially in the eye area, so unless you make a concerted effort to never smile, laugh or grimace again, your makeup is never really going to stay perfectly smooth. However, it's a little frustrating for cracks to be appearing just a few short hours after application.
I figured the infinite wisdom of the internet would provide me with a solution, so I jumped online to see what other concealer-wielders do to combat the crack.
RELATED: The one killer concealer you need in your life.
While many women seem to swear by applying translucent powder over the top, the most common tip I saw in my Google travels was using face oil to hydrate the under-eye area and plump up your 'lines' before the concealer goes on.
Here's a visual guide to how it works, starring me as your trusty guinea pig. (Post continues after gallery.)
The face oil concealer trick
I've tried this a few times over the past week and it seems to work quite well — the lines, while still present, weren't as etched-in as usual, even after a full day of wear. My oil of choice was Go-To's Face Hero, but the options are endless — jojoba, rosehip oil, you name it.
Of course, the success of this technique would be largely affected by the kind of skin you have, and at this stage I don't have particularly heavy under-eye creasing to contend with. It might be a different story for someone else. S