If you've ever tossed and turned through a long-haul flight you're not alone. We asked travellers on Skyscanner Australia whether they struggle to sleep on a plane and more than three-quarters (79%) of Aussies said yes. To help you get some shut-eye on your next flight, we've compiled our top tips for sleeping on a plane, including the best positions, seats and techniques for falling asleep on economy flights.
The best positions for sleeping on economy flights.
The biggest problem for 65 per cent of passengers polled is that they struggle to find a good position to sleep. Here's what the experts recommend.
1. Lean back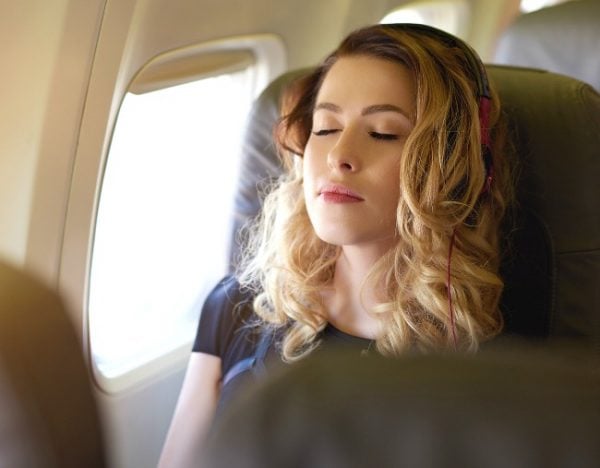 Ever folded forward and slept with your head on the meal tray? Dr. Alan Hedge, a professor of ergonomics at Cornell University says this is the worst position for your lower back. Use a travel pillow to sleep resting back or nab the window seat to sleep against the side of the plane instead.
2. Use a travel pillow, correctly
Find your head always flops forward? Spin your travel pillow around so it supports your chin instead.
If you experience lower back pain, you can also use a travel pillow or rolled up jumper as a lumbar pillow. Leaning on the armrests can also alleviate pressure on the spine.
3. Uncross your legs.
Don't doze with your legs crossed as not only is this bad for your back but can increase your chance of a blood clot on long-haul flights due to the restricted blood flow. Chiropractors recommend keeping your legs straight, with a slight bend to your knees instead.
4. Use an inflatable sleep aid.
Another travel accessory recommended by frequent flyers are inflatable footrests, which are especially popular with parents who are travelling with kids. Be aware that individual airlines have different rules on what you can and can't use on board. Qantas announced last year that inflatable cubes, 'bed boxes', and 'leg hammocks' are prohibited inflight but Virgin Australia has no such restriction.