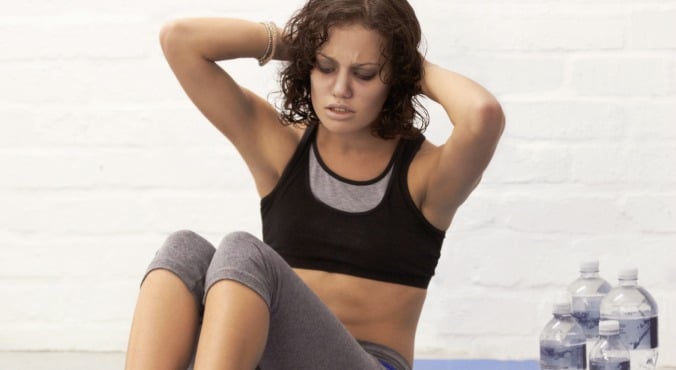 Image via iStock.
You're happily running along, hitting the dreaded incline part of your treadmill workout or struggling through your 20th burpee when suddenly you feel a pain.
It could be short and sharp or a dull ache – but how do you know whether it's serious enough that you need to stop what you're doing?
According to personal trainer and Pick It Up! Fitness founder Michael Genitsaris, it doesn't matter whether you're new to exercise or a regular – aches and pains can be equally as irritating and debilitating if you don't treat them properly.
RELATED: Exercise is known to alleviate anxiety. But what happens when working out makes you stress?
"The most common complaints I've seen are sprained ankles, knee pain, lower back stiffness and discomfort, a tight neck leading to headaches or migraines and of course, the common stitch," he says.
"They can be caused from things like incorrect technique when performing an exercise to overworking a muscle group and not giving it significant time to rest."
1. Sprained ankle
According to Genitsaris, a sprained ankle is usually a combination of bad luck as well as a lack of preparation.
"A bad step, or a quick turn on an underperforming ankle can often lead to a sprain ranging anywhere from mild and short term pain to severe pain and the need to immediately off load any pressure from the joint," he says.
To minimise the risk before you hurt yourself, look to incorporate some balance work into your workout, which can help build up the surrounding fast twitch muscle fibres and provide more support for the joint.
RELATED: Health news: Why going to the gym could be making you sick
"A sprained ankle is more likely to occur if your calves are tight or if you're running on uneven ground," he explains.
"Also if your ankle has been sprained it's more likely to happen again due to the weakness now present. Be sure to strap up your ankles, stretch your calves or look at other form of exercise like swimming or cycling if you have had a recent previous sprain."
2. Knee pain
Unfortunately, knee pain isn't always as simple and easy to identify, says Genitsaris.
"It may stem from tightness or weakness in surrounding and supporting muscles, overuse of muscle groups leading to strained ligaments, arthritic degeneration and poor patella tracking to name a few." (Post continues after gallery.)
How the rich and famous stay fit
He believes the best approach to reducing the chance of injury is to monitor your quads, hamstrings, calves and glutes.
"These muscles should be kept loose by incorporating foam rolling and stretching into your work out regime," he says.