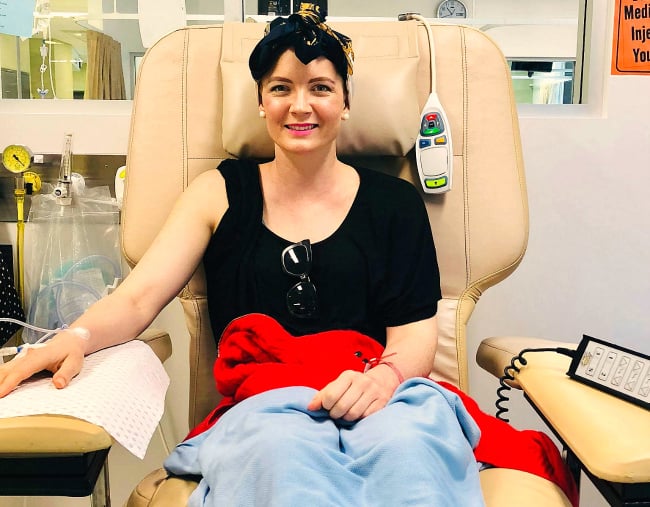 What's the strangest gift you've ever been given?
Mine is blood. Lots of blood. Oh and some plasma too.
See, I was diagnosed with Hodgkin's Lymphoma last year and it was the shock of my life. I'm 31, fit, healthy and apparently had cancer riddled all through my body
At least I now had a bloody good excuse for all those missed gym sessions and hardly having the energy to do anything on the weekends except collapse into a heap and binge watch Outlander.
I had to start chemotherapy straight away and it turns out chemo ain't all it's cracked up to be (I mean it did save my life) but it can make you very weak and anaemic.
Many cancer patients will require a blood transfusion at some point.
And so, my amazing colleagues at Mamamia and my gorgeous friends decided to all go donate blood.
It was incredibly emotional seeing everyone giving blood, it made me 'ugly cry' as you'll see in the video above. I was so moved by the gesture. In that moment seeing friends and colleagues sitting there in the medical clinic, hooked up, giving blood I felt like we were strangely connected, like they were experiencing a small part of what I've been through the past few months.
Turns out blood is a bloody awesome gift and I never thought I'd be saying to so many friends 'Thanks for the blood,' but here I am.
Every donation can save up to three lives and one third of all donations are used for cancer patients. You even get a text to tell you where you blood has gone!