In theory, having guests over at your home seems like a lovely idea. Until the day gets closer and the hour approaches and you find yourself resenting them more and more.
Even though you extended the invite.
Even though you were (before the stress began to get to you) really looking forward to seeing them.
Social media has well and truly ramped up the pressure on hosts, even for the most casual of get-togethers. We think it's time to push back. We asked two of Australia's leading etiquette experts, "What is the bare minimum we can get way with when it comes to being a host?"
Anna Musson from The Good Manners Company and Susie Wilson from Antoinette Champagne Finishing School share their advice.
FRIENDS FOR DINNER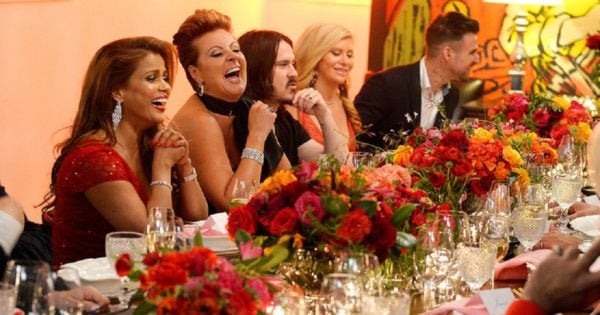 Sometimes it seems like a good idea to host a dinner party at home. Sometimes (you take total leave of your senses) you decide you don't want to go out to another fancy restaurant and a few too many cooking show episodes later, you decide you can whip up dinner at your home and before you know it, you're chopping and stirring and arranging flowers as the time screams towards their arrival time, barely giving you enough time to say, "WTF have I done to the chicken?"
Anna Musson says some friends can be very judgy. "I think with friends it's almost that competition. The mums want to be able to do it all, to have a perfect house and perfect children. I know I feel a lot of pressure to make sure my house looks perfect when my friends come over."