Parents worldwide were horrified this past week by the photos of Lydia Cravens' severe allergic reaction, caused by an ingredient in a children's makeup kit.
Lydia's mother Kylie had bought the kit from a discount store and given it to her daughter to play with. The little girl had such a severe allergic reaction that she had to be admitted to hospital.
"In 24 hours our little girl went from 100 per cent healthy to her eyes swollen and blistered shut, with a rash all over her body that we would have to apply cold packs to every 30 minutes or so because her skin was burning," Kylie Cravens wrote in a Facebook post that has been shared almost 200,000 times.
"She was unable to eat much for days because of the blistering and cracking of her lips."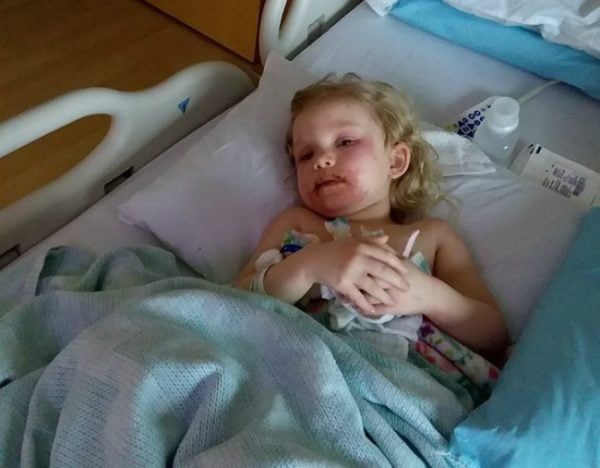 Lydia's father, Tony, posted from the hospital that he was "weeping uncontrollably" as he watched his baby girl.
"All the tears that I have watched my baby girl cry, all the screams in pain and all the times she would say, 'I hate being sick, Daddy,'" he wrote.
"I'm not man enough for this. I don't wanna hear no more screams or wring out no more cold rags to lay across my baby's face or across her back. I just want this to be over."
Kylie Cravens said she had assumed it was a "harmless, non-toxic" kids' makeup set, but found it contained "six different chemicals... that are commonly known to cause an allergic reaction".
"PLEASE be aware of what you are letting your babies have, especially kids' cosmetics, so this doesn't happen to your child," she added.
'Your hair should never be more interesting than you are.' An 18-year-old shares her parents' genius rules for dying her hair and getting tattoos and piercings. Post continues after audio.

The Cravens also posted a photo showing the ingredients' label from the makeup kit.
People posted shocked replies.
"I'm so freaked out – we bought play kits a couple of years ago for Olivia for Christmas," wrote one. "Never again,"
"They shouldn't be able to sell things that can make children sick or have allergic reactions!" added another.
So should parents be wary of buying kids' makeup? Mamamia checked with Sydney dermatologist Dr Adrian Lim.
"Overall, the allergy to cosmetics is uncommon, so there's no need to panic," Dr Lim says. "There are certain kids that are at higher risk – for example, if they have eczema, skin sensitivity, if they've got lots of allergies – so you'd be a bit careful as to what you'd put on their skin. So it's just a commonsense thing."
Dr Lim says fragrances, preservatives and certain dyes are the ingredients in cosmetics that are most likely to cause allergies, although there are hypoallergenic alternatives available. Two of the ingredients listed on the kids' makeup label are the preservatives propylparaben and methylparaben. But Dr Lim says there's not much point singling out individual ingredients.
"People can be allergic to anything," he explains.
Dr Lim says parents also need to be aware that the first time a child has an allergic reaction to something, the reaction may not be immediate.
"The harm is usually people not recognising there is an allergy at play, so they keep using the same product."
So what's the best advice for parents who want to keep buying makeup for their kids but want to avoid allergic reactions? Dr Lim suggests testing a patch of skin on the forearm before using the product on the face, especially for kids who have sensitive skin. His other advice is to avoid buying cheap kids' makeup from discount stores.
"I doubt the low-cost 'Made in China' makeup kits would have hypoallergenic variants," he says.
Meanwhile, Australia has specific regulations that apply to toys and fingerpaints aimed at kids under six years old. According to the Australian Competition and Consumer Commission, there are maximum allowable limits for lead and other elements such as arsenic, cadmium and mercury.
With cosmetics, the ingredients need to be listed.
Fines for not complying with the regulations can reach $1.1 million. Products that don't comply or are unsafe can be reported here.
A spokesperson for the ACCC says if children are applying makeup or facepaint/bodypaint, or playing with toys that leave a residue, like playdough or goo, they should wash it off immediately after use. If children get sick or have a skin reaction, parents should seek medical help.
As for little Lydia Cravens, the good news is that she's feeling better.
"She is smiling again!" posted her mother.