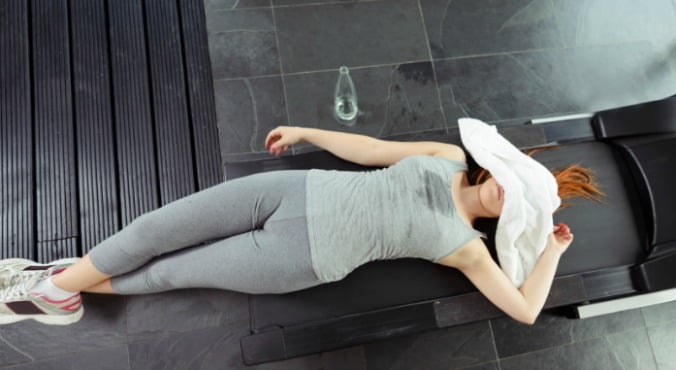 Image via iStock.
Having recently started full-time work, my usual workout routine has taken a bit of a hit.
I say "workout routine" – what I really mean is running for public transport and twice weekly attempts at power walking. Add to that the decadence of a long weekend and copious amounts of chocolate over Easter and it's no surprise I'm feeling a little out of shape.
RELATED: 8 proven ways to become an 'exercise person'.
But how quickly can one "lose their fitness"? How do you know if you're technically out of shape? And how do you get back onto the wagon (without getting out of breath!)?
I consulted personal trainers Blake Worrall-Thompson and Rachel Guy to find out.
 How long does it really take to get out of shape?
According to the experts, it usually depends on how often you exercise.
"If you're used to training five times a week, it could take just two weeks off until you feel out of shape, as fitter people respond quicker to changes in exercise," Worrall-Thompson says.
"For regular weight lifters, if you leave exercising for 10 to 14 days you may find a decrease in strength," Guy says.
RELATED: Working up a sweat could be the secret to living longer
"If you are a regular cardio bunny you my find that after about seven to 10 days your fitness levels start to decline."
For those that aren't such frequenters of the gym (ahem, me) it could take up to three weeks before you really notice significant changes.
What are the signs of being out of shape?
While it's a loose term, Worrall-Thompson believes there a few warning signs that signal it's time to hit the gym. It may seem obvious, but how you feel after tackling some stairs is a good starting point.
"The one that comes up a lot is finding you're out of breath after walking up stairs," he says.
"Otherwise it could be how you fit in your jeans, or how you look in the mirror or even photographs." (Post continues after gallery.)
The funnest ways to work out
What's the best way to get back into shape?
Both experts recommend being practical, persistent and above all, realistic about things. A three hour run is not going to get your fitness levels up immediately, so don't feel like you have to go hard or go home.
"Don't be excessive! One of the biggest mistakes we make is doing excessive cardio and eating a low calorie diet seven day a week. Obviously this is unobtainable and leads to bingeing or falling off the wagon," Guy says.