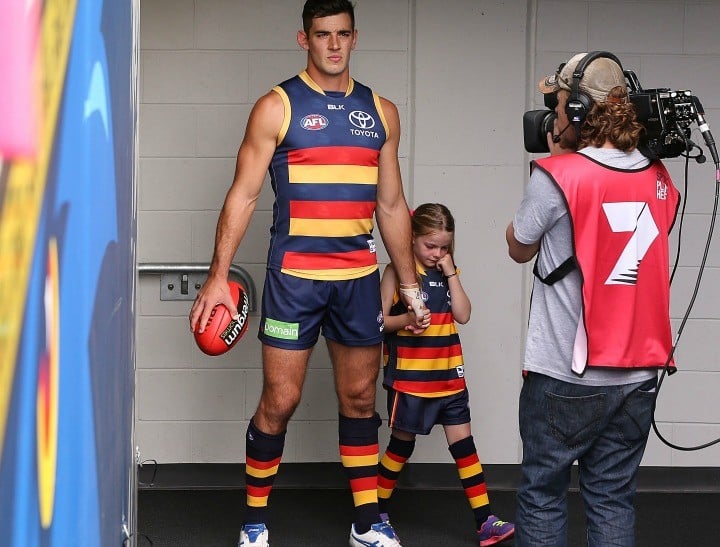 Because we all need to hear some good news this week.
This is Adelaide Crows captain Taylor 'Tex' Walker.
He is 24-years-old, 194cm tall, and 100 per cent our favourite man of the week (now that we're over that whole Scott Eastwood situation).
You might want to avert your eyes right about now, because this photo of the buff footy player comforting a tiny crying child is almost too much: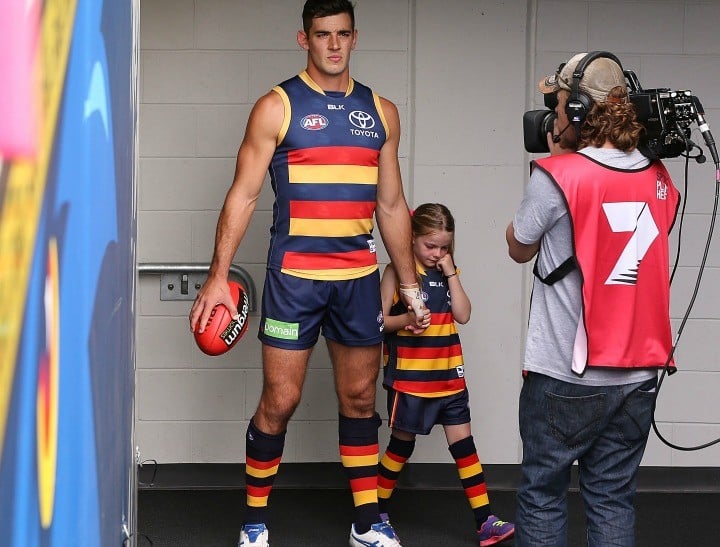 See?
Related: "Forget celebrities and sports stars. This is who I want my kids' role model to be."
The photo was taken just before the Crows' game against North Melbourne at Adelaide Oval last Sunday.
The little girl – a team mascot – burst into tears after being scared by loud fireworks just before she was supposed to lead the team onto the field.
Related: Bravo: For 6 weeks this year we finally saw some male role models on Australian TV.
Then Taylor Walker came to the rescue.
Walker comforted her and walked onto the field holding her hand. Swoon.
 Related: DILFS of Disneyland is the happiest place on Instagram. 
This story got the whole office talking about other famous examples of adorable men being adorable with tiny, adorable children.
Remember these?
1. Single dad goes to beauty school to learn how to do his daughter's hair.
US dad Greg Wickherst is the primary carer of his young daughter, Izzy – so he enrolled in a beauty course to learn how to do her hair.