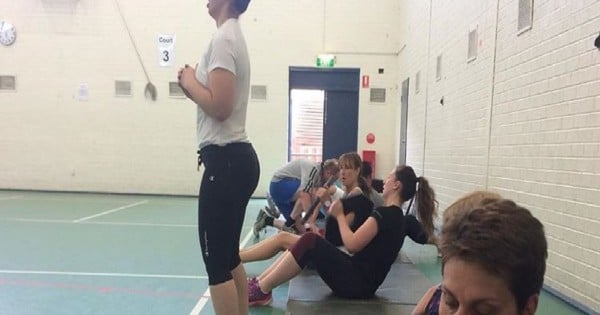 Dear Future Me,
Look, I get it.
It's getting colder. Rugged up in old mis-matching PJs, a fluffy dressing gown and socks, your motivation to leave your warm cocoon doona when the alarm goes off at 5:15am is exactly zero.
You barely want to venture onto the cold side of the bed, let alone get up, get dressed and torture yourself with kettlebells and squats in a freezing cold gym for an hour.
So you press snooze. "Just 10 more minutes," you tell yourself, diving back under the cosy, cosy doona.
At 5.30am, the alarm intrudes your peaceful dozing once again. Snooze.
5:44am, again. This really is your last chance to get up if you want to make it in time. You'll be really tempted to just let yourself off and stay in bed. After all, it's just one time — right?
Don't. With you, it's never just 'one time'. Despite every fibre of your body saying no, here's why you need to GET UP.
Watch: Those Two Girls count down the six types of people you find at the gym. Post continues after video.
You'll moan as you throw off the covers and jump out of bed. You'll almost take it as a sign this is a mistake when your favourite sports bra is still in the dirty laundry basket from last time and you cannot for the life of you find a pair of matching socks.
Spoiler: no-one cares. One black and one pink will just have to do.
Locking the door on the way out, you'll silently curse everyone in the world still curled up in bed. In the car park you'll delay braving the cold outdoors until the very last minute.
But you get out, walk in and mumble a half-awake 'hello' to the instructor. They've seen you now — there's no going back.
As you stretch and warm up, you'll begin to feel more awake. Human, even. "Look at me, it's 6am and I'm exercising," you'll say to yourself. "Take that Kate Hudson."