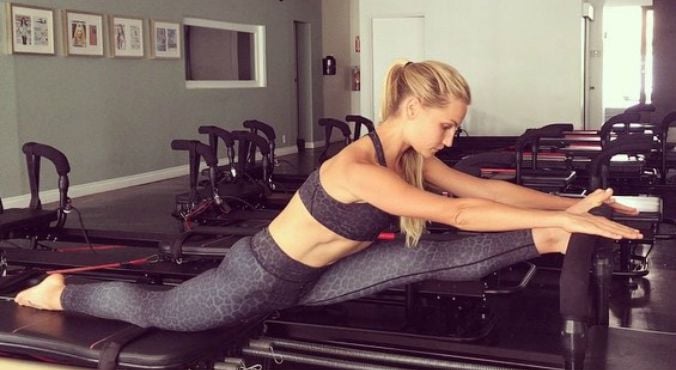 Image: supplied.
She trains the likes of Alessandra Ambrosio and is part of Kate Hudson's Fabletics Masters program, so you could say Heather Dorak knows a thing or two (or 2856) about Pilates.
"Whenever you first start a new workout, it is always important to be properly taught in order to prevent injury and be the most effective in your workout. Seek out a couple classes in which you can get one on one training or pop into a couple classes to experience it," Dorak says.
Once you've done that, you can start to master some moves in the comfort of your own home.
Heather's 5 best moves to try at home.
Dorak has a few tips for doing pilates at home. One is to practise in front of a mirror to make sure that your alignment is correct, especially important because there is no one there to make sure your posture is correct.
"Take it slow and really feel what you are doing. Pay attention to your muscles working and which ones are supposed to be working. By mentally tapping into the engaging muscles, your muscles will work more effectively," Dorak says.
1. 100s
Begin this exercise by lying on your back with your legs in a table top position. Make sure your shins and ankles are parallel to the floor. Inhale.
Exhale and lift your upper back off the floor while your arms reach towards your feet. In a slow range of motion, proceed to pump your arms up and down, keeping elbows straight and concentrate on exhaling for five pumps and inhaling for the next five. Repeat this cycle more than nine times to reach your 100 pumps.
"This gets your whole body warmed up and is a true opener move to start off your Pilates routine. It gets the abs and shoulders burning and blood pumping through the body," Dorak says.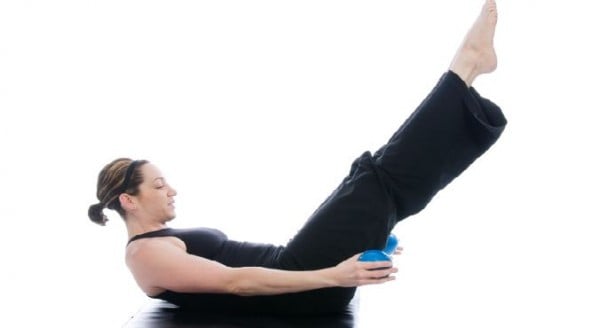 2. Full Body Roll Up
Lie on your back with your arms extended overhead. As your arms point towards the roof, inhale, and as you curl your body into a 'C' shape, point your arms to your toes and exhale. Once you've reached your toes, inhale as you uncurl back in a 'C' curve. Finally, exhale as your back reaches the mat.