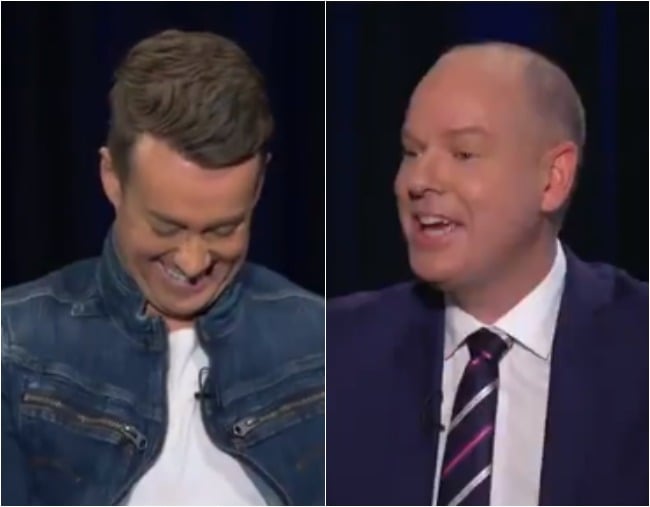 Since Grant Denyer was announced as a Gold Logie nominee just a few weeks after confirming his show Family Feud was cancelled, things have been a little awkward.
After all, the award, by name is for "most popular personality on Australian television" and while that's still technically where Denyer is, as episodes of the Channel Ten game show he hosted continue to air, it's axing certainly makes things less than ideal.
We've all been thinking this, but Hard Chat host Tom Gleeson has decided to say it, even addressing the issue with the man himself on TV this week.
Denyer was a guest on the comedian's Hard Chat segment of the ABC's The Weekly with Charlie Pickering and, as we've become accustomed to, did not hold back.
"You were nominated for a Gold Logie for Family Feud which has been axed," Gleeson began. "Are the Logies broken?"
(For anyone unfamiliar with the show, the "questions" are always this rude.)
Watch the onslaught continue on Hard Chat:
But Denyer had a good response: "If I had a known it was this easy to be nominated I would have had all my shows axed a long time ago."
Gleeson pressed on in his typical style, saying, "I struggle with it as a man of science. The Gold Logie is supposed to be for the most popular person on TV. Your show was axed due to low ratings from the third highest-rating network. That just doesn't make sense."
Again Denyer handled the dig well, joining in on making fun of the show, which he confirmed in early May was wrapping up – just under three weeks before the Logie nominations were announced on May 27.
"You're looking at it the wrong way," he told the host. "It's Australia's most loved game show, that's what you say when you're not the highest rating game show."
Gleeson presented his best burn yet with: "Was it hard to do a survey of 100 people when even 100 people weren't watching?" To which Denyer could only muster a laugh.
The pair then discussed who should win the Gold Logie of nominees Tracy Grimshaw, Rodger Corser, Andrew Winter, Jessica Marais, Amanda Keller and Denyer. The former racing driver told Gleeson he thought A Current Affair's Grimshaw should take it home, but the stand-up comic disagreed.
"Because the Logies are an absolute joke, how good would it be if you won the Gold for a show that wasn't on air?"
He then pledged to do his best to get Denyer the Gold Logie, which the 40-year-old seemed genuinely chuffed by.
Here's the brand new #HardChat with @GrantDenyer. LET'S GET HIS AXED TV SHOW A GOLD LOGIE! SHARE! RT! #TheWeekly #Denyer4Gold https://t.co/oIgKOm3nip pic.twitter.com/YyjaVNigaL

— Tom Gleeson (@nonstoptom) June 27, 2018
Gleeson has since launched a campaign to see Denyer take home the award on Sunday night.
On Twitter, he changed his feature image to a graphic of Denyer and a Logie and has kickstarted the hashtag #Denyer4Gold – which is already gaining momentum.
I want @GrantDenyer to win the Gold Logie for an axed TV show. Who's with me? #Denyer4Gold pic.twitter.com/Nwjlkj6r2O

— Tom Gleeson (@nonstoptom) June 27, 2018
Gleeson also appeared on ABC's Breakfast to talk about his 'Grant Denyer for Gold Logie' campaign.
Australians have joined in, pledging to vote for the host, who is expected to man another Channel Ten game show later this year.
All I want for my birthday is for @grantdenyer to take home the Gold Logie! Thanks for the picture @nonstoptom!#denyer4gold #bestbirthdayever!@theweeklytv pic.twitter.com/bK8leS8TYV

— Miss Emma (@Miss_Emma_Pole_) June 27, 2018
#theweekly Never voted for the #Logies in my life but I'm there this year. #Denyer4Gold. Nice one @nonstoptom and because I had to vote in ten categories I voted for #HardChat @CeliaPacquola and @LukeWMcGregor

— Cathy Thomson (@tassiedevil) June 27, 2018
Given that we're 99 per cent sure Gleeson is the reason Sophie Monk became our Bachelorette, (watch the Hard Chat video and tell us he didn't put the idea in her head) we think Grant Denyer should start preparing an acceptance speech.
Want to win a $100 gift voucher for telling us what you think? Take our short survey now for your chance to win 1 of 3 $100 gift vouchers.