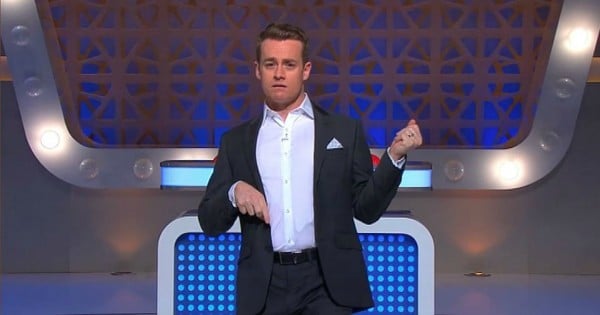 It's not often I write love letters to men who are not my husband. But for Grant Denyer, I thought I'd make an exception.
You see, plenty of people in the office scoffed – loudly – when they heard Denyer had been nominated for a Gold Logie. There were predictable jokes about his diminutive size and comments about his feud with Woman's Day. Some people said he was silly. Some said cheesy.
My feeling is most of them are just uncomfortable liking the host of a show as unashamedly populist as Family Feud.
I think people are embarrassed that a bloke like Denyer, who has only ever existed in a TV space that is cheery, full of optimism and family fun (think Sunrise, It Takes Two and Dancing with the Stars) could possibly have a shot at winning the most coveted statuette in Australian television.
Watch some of Family Feud's funniest moments below. Post continues after video…
Certainly there was other criticism of the Logies swimming around this week after Sunday's announcement of the 2016 nominees.
One TV insider (who could honestly be anyone) told News Corp the Logies were an "embarrassment", asking what The Project co-host Waleed Aly had done to earn a nomination.
TV Week – the magazine that runs the voting for the Logies – responded by explaining the Gold Logies are earned by popular vote. That means public vote. Which is probably why 'TV insiders' and critics and journalists get pissed off.
A lot of these people think they know better when it comes to what people want to watch than the people themselves. They are probably the same people who criticised Channel 10 when Denyer was brought in to host the revamped game show in 2014.
Back then there were inevitable comments about Ten's lack of imagination in reviving a 'tired old format'. And maybe they were right. Family Feud is not ground-breaking TV drama, and it's certainly not investigative current affairs.