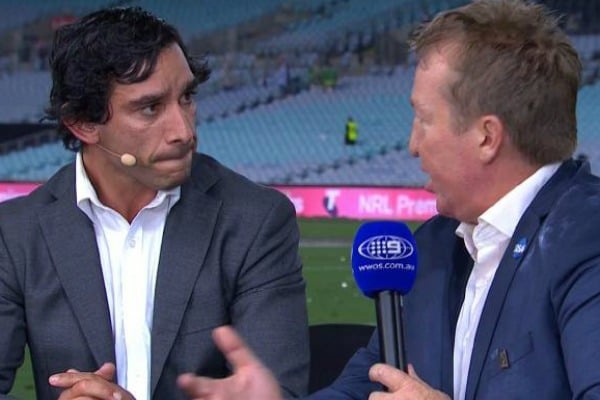 It doesn't get more tense than an NRL Grand Final match, but the tension hasn't ended after Sunday night's final buzzer.
To put it lightly, there's a lot of fans who aren't too happy.
The Sydney Roosters last night became the first team to record back-to-back premierships in 26 years. Their 14-8 win over Canberra, however, has been tarred by the backflip from the referee in the 72nd minute.
Johnathan Thurston, who was a panellist on Nine's coverage for the game, finished the night by asking the question most viewers wanted to ask – even though it made for uncomfortable live TV.
Johnathan Thurston and Trent Robinson discuss the refereeing decision below on Nine's NRL coverage. Post continues after video.
To set the scene for you (in case you missed the Grand Final), the Roosters and Raiders were level at 8-8 with eight minutes to go when Jack Wighton hoisted the ball in the air and it came down in a crowded pack of players.
As it bounced backwards into the Raiders' grasp, referee Ben Cummins waved his hands in the air, to signal a new set, and could be heard saying "six again".
However, when the call from his assistant referee Gerard Sutton came that the ball had in fact deflected off a Raiders' player, he quickly changed his call, ruling "handover."
From the ensuing set, the Roosters scored a brilliant team try with fullback James Tedesco sealing the game.
???????? Here's the controversial moment in the grand final everyone is talking about …#NRLGF #NRLGrandFinal #NRLRoostersRaiders #NRL ????: @rtuck17 https://t.co/mz3td5yDFl pic.twitter.com/hWP9brsYIw

— ABC Grandstand (@abcgrandstand) October 6, 2019