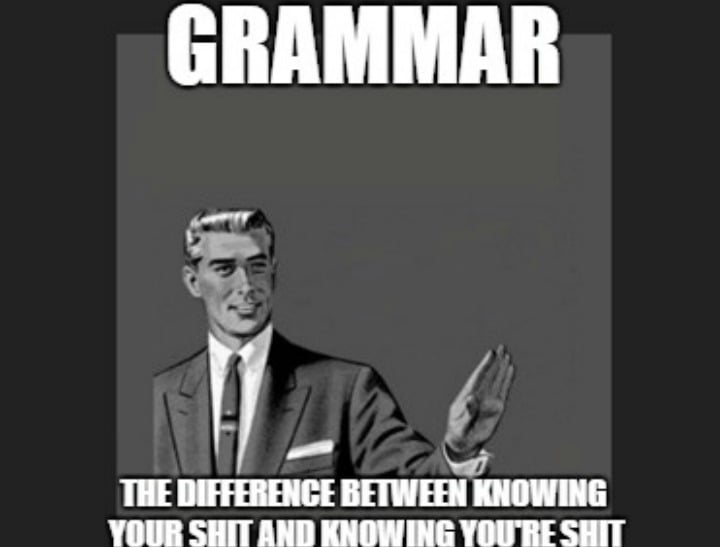 Nothing is more annoying than bad grammar. Oh wait, yes, there is – that person in who corrects your grammar. We all have one. If you don't have one, you're it.
Grammar is one of those things we all think we're pretty good at until we realise we're not.
Watch Robin William's monologue on grammar from 'Dead Poets Society' below. Post continues after video.
So how good is your grammar? Take this test and find out.
My boss Annie, who sent me this article, informed me she received Wizard status. I only got Master. Not planning to tell her that. It will be our little secret.
Here we go…
1. I work hard out there to earn a __________ living.
descent
decent
dissent
2. I __________ your thoughtful gift.
accept
except
3. I get mad when they put way __________ little avocado in my burrito.
two
to
too
4. Downed power lines can __________ customers.
affect
effect
5. The __________ on Foreign relations had a meeting this week.
council
counsel
6. The __________ shower is tonight.
bridal
bridle
7. Some people are __________ citizens.
dual
duel
8. The U.S. __________ building is in Washington DC.
Capitol
Capital
9. __________ Marketing is often an effective marketing strategy.
Gorilla
Guerrilla
10. My friend has a __________ for Maths.
flair
flare
11. Get ready, that show we've been waiting for will __________ next Monday.
premiere
premier
primer
12. It's not hard to __________ her interest, just be nice.
peek
peak
pique
13. Following budget cuts, the board members have __________ their salaries.
waved
waived
14. Citizens from 17 European Union countries were given freedom to __________ to Switzerland in 2007.
immigrate
emigrate
15. Lastly, at the end of the show the skies were shattered with a final __________ crash of thunder.
climactic
climatic
ANSWERS
1. decent
2. accept
3. too
4. affect
5. council
6. bridal
7. dual
8. Capitol
9. Guerrilla
10. flair
11. premiere
12. pique
13. waived
14. immigrate
15. climactic
HOW YOU SCORED
100% CORRECT – WIZARD STATUS
Your grammar is perfect and you have earned the right to obnoxiously correct people to their faces and on social media. Or you can choose to be one of those quiet classy types who may choose not to do that.
11 OR MORE CORRECT – MASTER STATUS
You're pretty good at grammar but do get tripped up from time to time. You may choose to correct people's grammar however it can be hit and miss.
7 OR MORE CORRECT – SUPER CHAMP
Keep at it. It's always a good idea to Google correct grammar and you'll eventually improve if you choose to.
5 OR MORE CORRECT – FAIL
There are some great online courses designed to assist you with your grammar. You'll eventually get the hang of it.
Survey courtesy of http://www.surveee.org/trickysentences.html