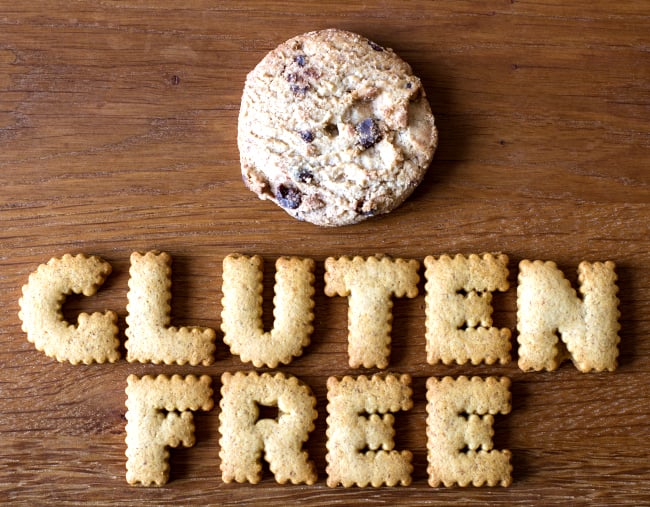 *This post is not sponsored, and may contain traces of gluten-freedom.
There was once a time in my life when I considered myself a living, breathing Cookie Monster.
I'd be that person with my hands in the communal biscuit jar at work…up until that time someone told me they spotted a colleague walking out of the bathroom with unwashed hands that went straight into said jar. Never again would I get excited about office cookies.
Me want cookie. GLUTEN-FREE COOKIE. Image: Giphy.
But the cookie quite literally crumbled for me when the doctor said I was gluten-intolerant. Like many coeliacs or gluten-intolerant folk out there, I had to find a new normal. Farewell, tasty choc chip cookies. Hello, cardboardy substitutes.
Leanne Smith from Sydney gluten-free baking business Cookie Crazy can empathise with me. When her daughter was diagnosed as a coeliac, with dairy allergies as well, she changed her entire approach to baking so she could make treats her child could eat.
"The gluten-free range came as a necessity as we had spent hundreds of dollars on food and snacks that just tasted awful," Leanne tells Mamamia. "Now Cookie Crazy is a gluten-free bakery."
Leanne herself isn't a coeliac or gluten-intolerant. She just loves baking.
Her story is pure lady startup magic: she started baking as a hobby in 2007, became a qualified pastry chef through TAFE in 2014, and quit her bank job to set up a commercial kitchen in Sydney's Engadine.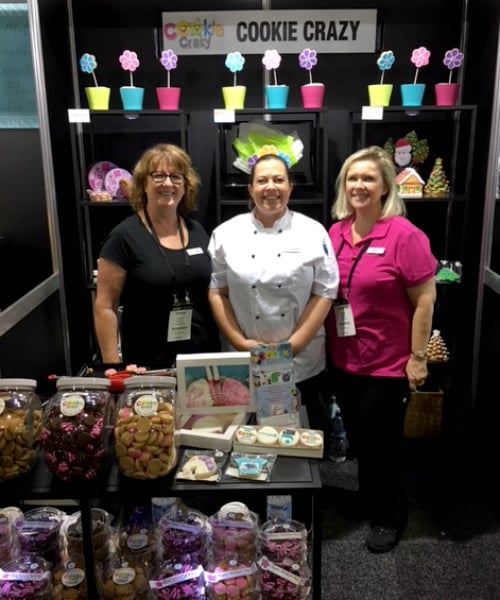 Her cookies have won more than 50 awards, and she's made personalised logo cookies for brands like Sephora, Miumiu, Oroton, Givenchy, Pandora, and Kookaburra Kids.
"Our cookies have travelled the world and have been up Mount Kilimanjaro and even decorated Barbara Eden's Christmas tree," she says.
Yes, she's talking about Barbara Eden from I Dream of Jeannie. I dare you not to start humming the theme song out loud right now.
I Dream of Jeannie. Not Bewitched. Image: Giphy.
But back to Leanne. She will be selling her cookies this weekend at the largest gluten-free event in Australia, The Sydney Gluten-Free Expo, on Saturday, August 4 and Sunday, August 5.
There will be GF food trucks, MasterChef demonstrations, expert interviews, and novelties like GF beer and the famous gluten-free doughnuts I wrote about for Mamamia last year.
This was literally me all day. Image: Giphy.
While Leanne won't be the only biscuit or cookie seller at the expo (there's also Kez's Kitchen, Leda, and Simple Wize), she will have made-from-scratch options like vanilla and chocolate (both gluten, soy and dairy-free), and caramel, choc-chip, gingerbread, and shortbread.
Given her experience as an award-winning pastry chef, I asked Leanne for a few tips on how to get gluten-free baking right - because nobody wants an deconstructed aspiring cookie.
Her top tip for baking the perfect gluten-free cookie that even non-coeliacs would like? "Bake the dough chilled for consistency in baking and shapes - wheat or gluten free," Leanne says.
A common complaint I've heard from my fellow gluten-free friends is that cookies and cakes are way too sweet. However, according to Leanne, you don't have to overcompensate for the lack of doughy goodness in your baked goods with too much sugar.
"We actually use the same amount or less for our gluten-free cookies, compared to when we baked regular wheat cookies," Leanne says.
And what about substituting normal flour with gluten-free flour when tackling a recipe? Can you just simply throw in maize cornflour, soy, tapioca, rice, coconut, almond or other types of flour and they'll do the same job?
"[It's] not a simple swap out for one flour," Leanne advises. "You need to create or purchase a good blend depending on your other intolerances.
"For cookies, biscuits and slices you can often use one of the supermarkets' pre-blended flour brands like Well & Good or Orgran."
I can vouch for Well&Good's choc banana bread mix from personal experience. It's top notch.
See? Us gluten-free people don't have to give up nice things. And we certainly don't need to leave our Cookie Monster past selves behind.
What are your gluten-free baking tips? Have you got any brands you love? Tell us below.
The Sydney Gluten Free Expo 2018 is on Saturday, August 4 and Sunday, August 5 at Rosehill Gardens Racecourse from 9am to 4pm. The event is owned and presented by Coeliac NSW and ACT. The expo will be held in Melbourne in October.
EXTRA FLUFF: Want to know how to make bliss ball cake pops? The Wholesome Child paediatric nutritionist Mandy Sacher shows us how: